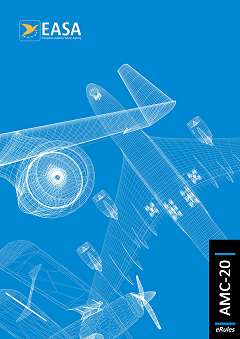 This Easy Access Rules document contains the consolidated AMC-20 Amendment 20, resulting from ED Decision 2020/023/R.  The ED Decision contains amendments to AMC 20-20 in order to align this material with the new ageing-aircraft requirements introduced into Part-26. 
Being generated through the eRules platform, this Easy Access Rules document has advanced navigation features through links and bookmarks, and will be updated regularly to incorporate further changes and evolutions to AMC 20.
Easy access rules for AMC-20 now available as dynamic online publications!
Easy Access Rules for AMC-20 Amendment 20 is now available in PDF format and as a dynamic online publication.
Access the online format of AMC-20 Amendment 20 and benefit from:
easy navigation for computers, tablets and mobiles
filters to create a view of the rules tailored to your needs
search functions giving quick access to the relevant sections
Please send any feedback and comments by using the Easy Access Rules area on the contact us form.