The 'open' category is the home for most leisure drones activity and low risk commercial activity. As a drone operator or remote pilot, it is important that you know how to fly your drone both safely and legally.  As of December 31, 2020, you will need to comply with the new European drone rules.  This is the information you need to enjoy flying your drone in a way that does not pose a risk to any other aircraft or people. This information will be valid wherever you live or fly in Europe. 
The 'open' category is itself subdivided in three sub-categories – A1, A2, A3 -- which may be summarised as follows:
A1: fly over people but not over assemblies of people;
A2: fly close to people;
A3: fly far from people.
Each sub-category comes with its own sets of requirements. Therefore, in the 'open' category, it is important to identify the sub-category of operation your activities will fall under, to determine which rules apply to you and the type of training you need to take. Start by identifying the type of drone you have in your possession by checking the class identification label (C0, C1, C2, C3, C4) if it is a new generation of drone (we expect this information to be available from 2022) or alternatively by checking its weight. The table below will give you an overview of the rules that apply to a class of drone. However, we encourage you also to consult the FAQ general provision  and FAQ 'open' category for more details. These FAQs will take you through all the steps you need to take to be fully compliant and will help you understand the rules that will apply to you. 
Since drones which are complaint with the EU regulation and bear a class identification label are expected to be available on the market only later, drones without a class identification label can be used as described in the below table, until January 1, 2023.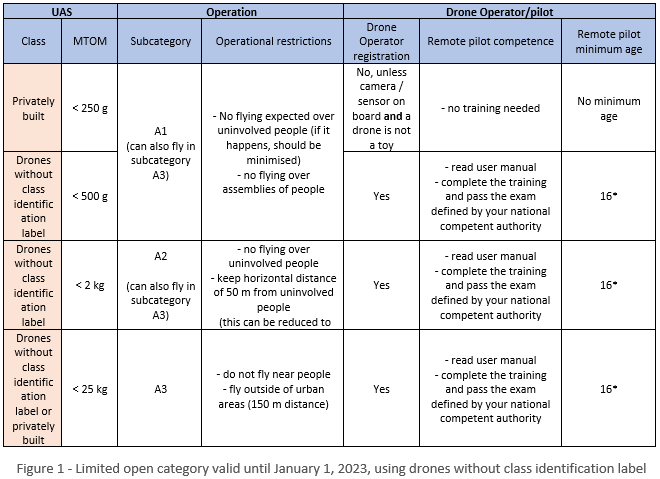 Privately built means that you built the drone for your personal use.
Once drones with a class identification label from C0 to C4 are available on the market, you can operate them as described in the table below:
If after January 1, 2023 you  have a drone purchased before that date, you will still be able use it in subcategory A1 if its weight is up to 250g and in subcategory A3 if its weight is up to 25kg. 
* The minimum age can be lowered by the state to 12, in which case, this new threshold will be valid only in that state.
For all our amateur drone pilots, Paul and his new drone Donnie will help you see how easy it is to become a safe and responsible drone pilot.