A Design Organisation Approval is the recognition that a Design Organisation complies with the requirements of Part 21 Subpart J. The approval includes terms of approval defining:
Scope of approval: The type of design activities including fields of expertise
Categories of products: The applicable products such as Large Aeroplanes, Engines, Small Rotorcraft, Sailplanes, etc.
List of products: The list of products for which the DOA holder is Type Certificate applicant or holder (if applicable)
Privileges: A DOA holder can

Perform design activities within the scope of approval
Have compliance documents accepted by the Agency without further verification
Perform activities independently from the Agency

Limitations: Any limitations on the above
Relevant legislation
The following legislation is applicable to DOA:
Essential Requirements:
Regulation (EU) 2018/1139 - Basic Regulation
Implementing Rule:
Commission Regulation (EU) No 748/2012 - Initial Airworthiness Regulation, including Part 21

Relevant section of Regulation: Articles 1(h) & 8
Annex I to Regulation (EC) No 748/2012 - Part 21 - Certification of aircraft and related products, parts and appliances, and of design and production organisations
Relevant section of Part 21: Subpart J - Design Organisation Approval

ED Decision 2012/020/R - Acceptable Means of Compliance and Guidance Material
This legislation is updated regularly by issuing amendments. A full overview can be found on the Regulations page.
---
Applications
A Design Organisation Approval can be applied for by submitting an application form to EASA (FO.DOA.00080 under "Downloads" on the right). In addition, the following information needs to be provided to EASA during the investigation process:
Design Organisation Handbook and Procedures
After acceptance of an application, EASA will assign a DOA Team Leader to conduct the investigation as summarised below: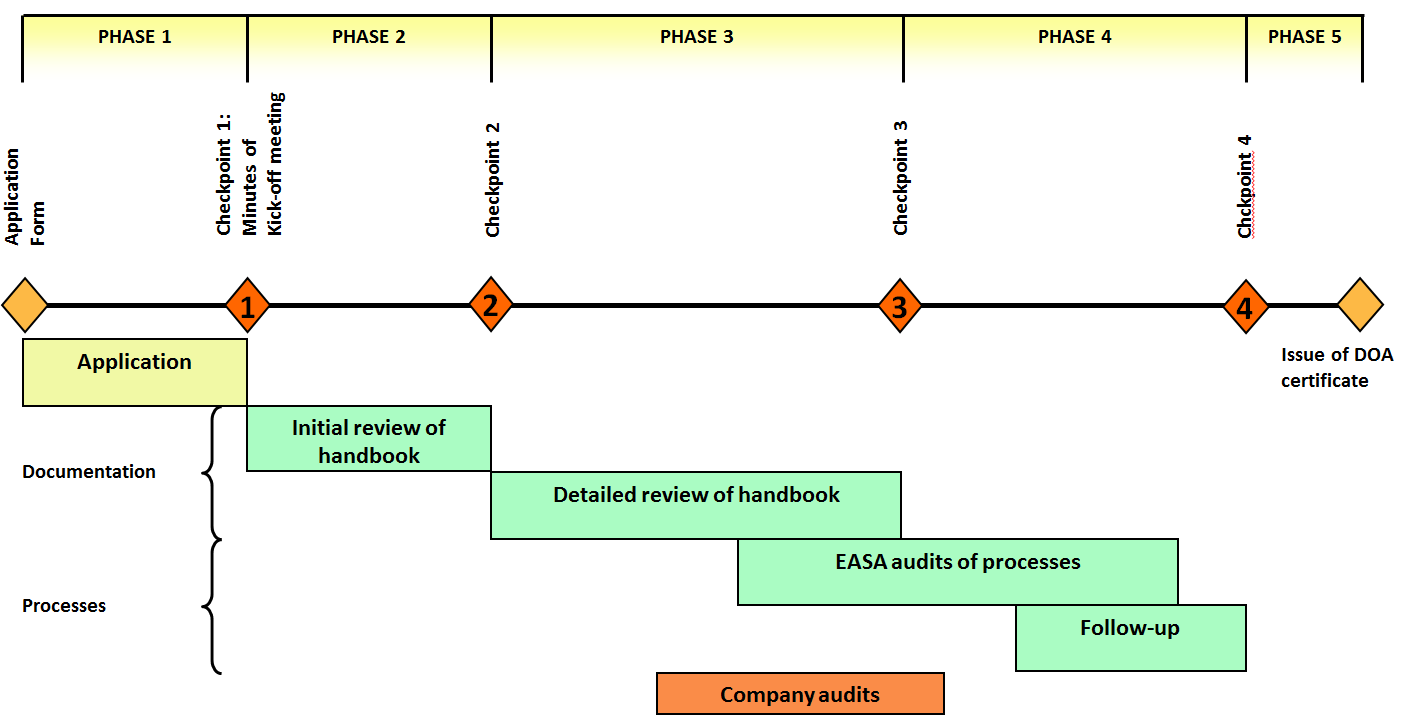 This process will be further explained during a kick-off meeting organised by the DOA Team Leader.
After the issue of DOA Certificate, significant changes to the Design Organisation must be approved by the Agency, by submitting an application form (FO.DOA.00082 under "Downloads" on the right).
Fees & Charges
In accordance with Commission Implementing Regulation (EU) 2019/2153 of December 16, 2019, DOA table 9A and ADOA 9B and explanatory notes 11 and 12 of Part V – Explanatory Note.
For more information, please refer to the above-mentioned Fees & Charges Regulation or consult the Fees & Charges FAQ page
---
Good practices
EASA Good Practices intend to clarify specific items of implementing rules for design organisation approvals. They highlight a particular subject and, as non-binding material, provide additional technical explanations to current standards.
EASA Good Practices are published for information purposes only and must not be regarded as formally adopted Acceptable Means of Compliance (AMC) or Guidance Material (GM).
EASA Good Practices do not introduce new or modified rules and do not constitute any legal obligation or right for the Agency or the organisations.
---
Contacts
Queries related to Design Organisations can be sent to: doa [at] easa.europa.eu
Letters and paper documents/records can be sent to:
European Union Aviation Safety Agency
Design Organisation Approvals
P.O. Box 10 12 53
D-50452 Cologne, Germany