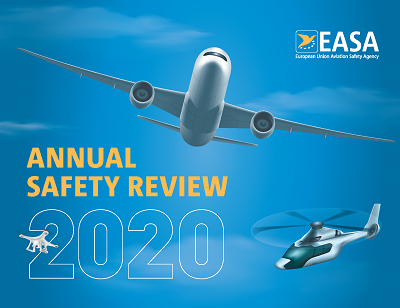 As an overview of the safety situation in aviation in Europe, EASA published today the 2020 edition of its Annual Safety Review (ASR). 
The analysis in the review provides a statistical summary across all domains of operation and is split into sections covering:
aeroplanes, 
helicopters,
balloons, 
sailplanes, 
aerodromes / ground handling and 
air traffic management / air traffic navigation services.  
The ASR identifies the most important safety challenges faced in European aviation today and supports the decision making for the next edition of the European Plan for Aviation Safety (EPAS) to further improve aviation safety and environmental protection throughout Europe. 
In June, EASA also published a 'Review of Aviation Safety Issues Arising from the COVID-19 Pandemic' that contains additional information on safety issues arising from the COVID-19 pandemic.  
Get notified via email alerts
Stay informed when we publish new content like this. You can always unsubscribe or update these settings later on.