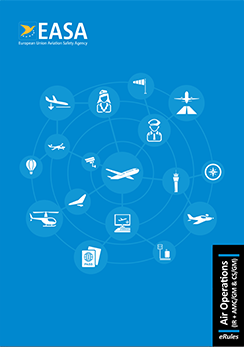 Easy Access Rules for Air Operations - Revision 14, October 2019
We constantly strive to improve the consolidated version of the Air Operations regulation in the Easy Access Rules format.
For this, we always consider your suggestions.
Your feedback is important because you help us create a better tool for you.
Revision 14 of Easy Access Rules on Air Operations includes:
EASA ED Decision 2019/019/R related to Regulation (EU) 2019/1384 amending Regulation (EU) No 965/2012 on air operations, containing an update of the air operations rules and maintenance check flights.
More information in the Rule Amendment Status, which also includes:
A summary of changes to the Commission Regulation (EU) No 965/2012 and the EASA ED Decisions;
A Revision Table, with the rule paragraph number and the type of change (deleted, new or changed text), for an easier identification of the paragraphs that were modified by the latest amendment;
All the amendments to Regulation (EU) No 965/2012 to date, with the dates of entry into force and dates of application; and
Easy references for the dates of application of specific provisions.
Thank you for sending us your opinions and suggestions on the Easy Access Rules on air operations to air_ops [at] easa.europa.eu.
Easy access rules now available as dynamic online publications!
Access the online format of this "easy access rule" and benefit from the below functionalities:
Filters to get the regulatory material tailored to your needs
Search through the table of content and have quick access to the relevant sections
Easy navigation for computers, tablets and mobiles
We welcome your feedback on this new online format.
Note: Technical questions on the content of the regulatory material should be processed through the contact us form.