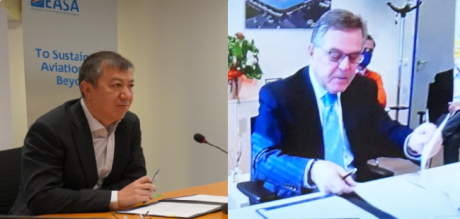 EASA welcomes the signature of the partnership agreement with the Hellenic Civil Aviation Authority (HCAA).
The partnership agreement, signed by EASA's executive director Patrick Ky and the Governor of the HCAA, Dr. Christos Tsitouras, during a virtual signing event on January 31, 2022, opens the door to a closer cooperation between EASA and HCAA in areas such as outsourcing of certification and oversight tasks. It also facilitates the nomination of national experts to work for EASA or the European repository of information on drones. 
EASA now has partnership agreements with 26 Competent Authorities across Europe to work on a resilient, efficient and sustainable European Union Aviation safety system.