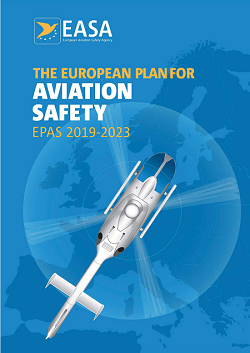 EASA published today the 8th edition of the European Plan for Aviation Safety (EPAS). The EPAS sets out the strategic and operational priorities for safety and environmental protection for the next 5 years. It is a key component of the European Aviation Safety Programme (EASP) and provides a coherent and transparent framework for European States to manage aviation safety, both at regional and at national level. 
In commercial air transport (aeroplanes) and business aviation, aircraft upset in flight (loss of control), and runway excursions, incursions and collisions are the most important risk areas. Human performance, pilot competence, and the often complex processes that lead to an accident require a continued but also increased focus on human factors and safety management.  Rotorcraft operations, General Aviation, drones, as well as threats related to cybersecurity in aviation and flying too close to conflict zones are also addressed.
The plan's safety priorities and concrete actions are based on the safety data and information that is continually gathered and processed at the European level. Main sources for these include the EASA Annual Safety Review, the EASA Standardisation Annual Report, and the Air Traffic Management (ATM) Master Plan.
With a view to consolidate safety management capabilities at State level the EPAS also comprises 14 actions specifically addressed to Member States, including a new action to develop a State Plan for Aviation Safety.