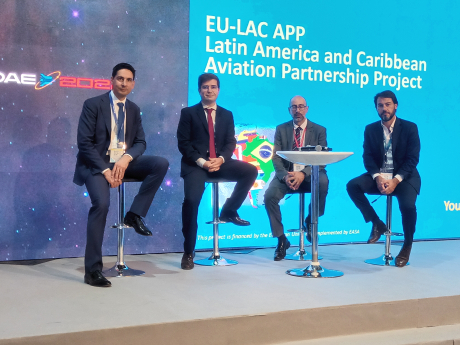 Within the scope of the EU - Latin America and Caribbean Aviation Partnership project (EU-LAC APP), the European Union Aviation Safety Agency (EASA) organised the "Conference on Cybersecurity in Aviation – Taking stock!" at the International Air and Space Fair (FIDAE) in Chile (April 5 – 7, 2022). The purpose of the event was to strengthen the exchange and dialogue with partners in the region.    
Given the increasing importance of cybersecurity and the need to protect the aviation system against new threats, EASA gave an overview of the European approach towards Cybersecurity and exchanged experiences with representatives from CAA Brazil, CAA Argentina, Airbus and Leonardo. 
During the conference, areas of mutual interest and future cooperation on the management of the cybersecurity risk in aviation were identified, together with the need for global coordination.
The conference was the first in a series of events which will focus on cybersecurity within the EU- Latin America and Caribbean Aviation Partnership project. 
Aiming to keep cybersecurity professionals and partners worldwide informed and up to date, EASA launched a community website providing information on regulations and standards, with particular focus on information sharing and collaboration initiatives, such as the European Strategic Coordination Platform (ESCP), the European Centre for Cybersecurity in Aviation (ECCSA) and the Network of Cybersecurity Analysts (NoCA). 
For more information and to join the community, please visit us at 'Cybersecurity in Aviation'.