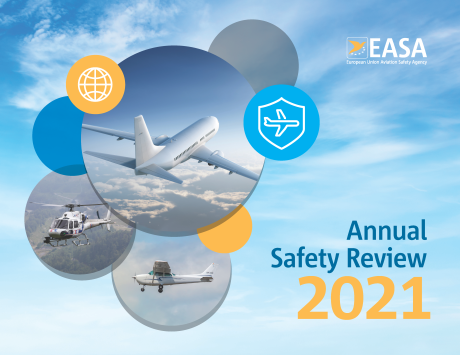 Despite the extraordinary challenges created by the pandemic, the EASA Annual Safety Review 2021 shows that the aviation safety system remains resilient but under pressure. The overall safety picture for EASA Member States is relatively stable. As activity ramps up with the loosening of COVID-related restrictions, the situation must be closely monitored.
This edition of the Annual Safety Review is unusual. The normal annual process of safety performance monitoring compares the review year's safety figures with those of the previous 5 to 10 years. Due to the unique situation in 2020, it is much more difficult to make a review and draw definitive conclusions about the safety performance of the European aviation system. Some trends will have to be monitored over the next few years as the impact and recovery path from the pandemic become clearer.
For the remainder of 2021 particularly, the aviation sector and all its stakeholders will need to continue their effort to find a common path towards a safe and sustainable recovery. EASA stands ready to play a central part in this joint activity.
Get notified via email alerts
Stay informed when we publish new content like this. You can always unsubscribe or update these settings later on.