As an Agency of the European Union we operate with a clear focus on the achievement of our vision, mission and objectives to provide the highest common level of aviation safety and environmental protection in Europe. We are committed to demonstrate our ability to constantly provide a service that meets stakeholder's expectations while ensuring compliance with the applicable regulatory requirements. We are constantly striving to enhance our services through the effective application of our Integrated Management System (IMS) which embraces quality management principles and practices. It is our intention to ensure compliance with the applicable management standards, namely the EASA Management Standards that take into account the ISO 9001 requirements and the Internal control Standards of the European Commission.
---
ISO 9001:2015 Certification
The EASA Integrated Management System (IMS), comprising a Quality Management System, is certified against the internationally recognised ISO 9001 Standard for Quality Management Systems.
---
The EASA Integrated Management System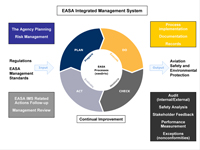 The EASA Integrated Management System (IMS) operates to ensure compliance with the requirements of:
the EASA Strategy & Integrated Management System policy;
the regulatory framework (as well as those set forth by international agreements (e.g., ICAO standards on safety programme and safety management system);
the Agency's Financial Regulation;
the EASA Management Standards (including the requirements of the ISO 9001 Standard and the objectives and principles of the Internal Control Framework of the European Commission);
the staff Regulations
the Code of Conduct for the staff of EASA.
The EASA process map provides an overview of the Corporate, Strategy/Programme, Core and Support processes, the immediate stakeholders and the responsible Process and procedure owners. 
---
Governance & Internal Audit
EASA is committed to good governance and drives for continuous improvement in a control environment. To that end, the Internal Audit Section performs targeted audits on key processes, recommending opportunities for improvement, risk mitigation and greater efficiencies.