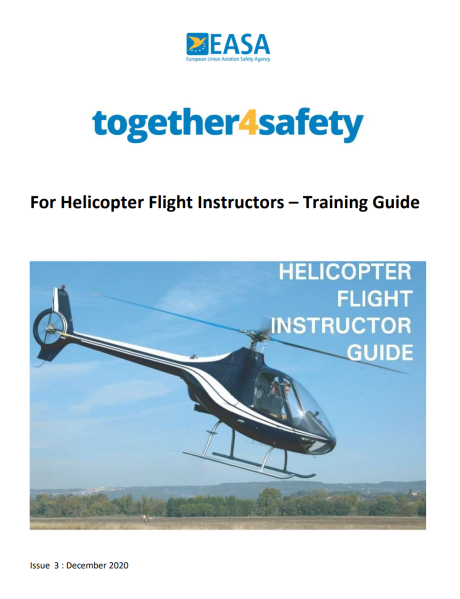 This is the fourth edition of the Rotorcraft Flight Instructor Guide. The guide was initially developed by the European Helicopter Safety Team (EHEST) based on the Australian Civil Aviation Safety Authority (CASA) Flight Instructor Manual (Helicopter). CASA has kindly made this manual freely available to the EHEST for educational and safety promotion purposes.
The main technical changes in this new version are as follows: 
Making a stronger link with the Rotorcraft Safety Roadmap and particularly the Training Safety and Training Devices workstreams.
Introducing  'training scenarios' and the use of other-than-conventional, yet, 'safe' training devices in order to reduce risks encountered and inherent to training in real aircraft during high risk training manoeuvres.
Experience level of flight instructors (this is also in relation to high risk training manoeuvers).
Introducing safety briefings prior any training flight.
Negative training & negative transfer of training.
More Threat and Error Management (TEM) elements included in several exercises
Elaboration on Vortex Ring State, including the Vuichard manoeuver, and in support of clarification on the subject in Part FCL & AIROPS (ORO.FC) 
Shift from Loss of Tailrotor Effectiveness(LTE) to Unanticipated Yaw (UAY).
There are also the following additions following suggestions from the industry:
Introduction of HASEL checks.
Elaboration on reconnaissance during off-airfield operations.
Elaboration on control handover procedures.
Elaboration on scanning & lookout technique.
 
Get notified via email alerts
Stay informed when this page is updated, or when we publish new content like this. You can always unsubscribe or update these settings later on.