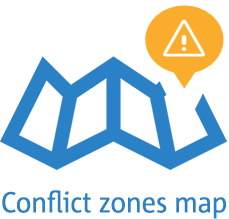 Since the tragic event of the downing of Malaysian Airlines flight MH17 there is a general consensus that States shall share their information about possible risks and threats in conflict zones. Numerous initiatives have been taken to inform the airlines about the risks on their international flights.
In Europe, Member States are cooperating with the European Institutions, EASA and other aviation stakeholders to share and distribute intelligence information on risks arising from conflict zones.  
A high level meeting was co-organised by EASA and the Romanian Civil Aeronautical Authority (RCAA) on 29 September 2015, which triggered the setting up of a European High Level Task Force on conflict zones under the chairmanship of Raymond Benjamin.
The Task Force handed over its final report to Mrs Violeta Bulc, European Commissioner for Transport on 17 March 2016. It contains recommendations to be taken by various stakeholders and a proposal to set-up a Conflict Zone Alerting System at European Level, through cooperation between Member States, European institutions, EASA and other aviation stakeholders.
Conflict Zone Alerting System
The objective of the alerting system is to join up available intelligence sources and conflict zone risk assessment capabilities, in order to enable the publication in a timely manner of information and recommendations on conflict zone risks, for the benefit of all European Member States, operators and passengers.  It complements national infrastructure mechanisms when they exist, by adding, when possible, a European level common risk picture and corresponding recommendations. 
Two important enablers of this Alerting System are:
the "common EU risk assessment process" facilitated by DG HOME with the support of Member States.The Commission (DG HOME) organises regular meetings, at least on a quarterly basis with Member States and European External Action Service in order to elaborate common EU risk assessments on conflict zones. The so-called "DG HOME working group" has developed a risk assessment methodology, shares confidential threat information and discusses every airspace of concern until reaching a consensus on the risk level.
the role to be played by the "Conflict Zones Network of Focal Points" so called RCZ Network  The RCZ Network is composed of focal points from EASA, European Commission, European External Action Service (EEAS) and focal points designated by the EU Member States who are willing to contribute. This Network serves as a platform for sharing information on conflict zones and for consultation on draft EASA conflict zones publications (CZIB).
Role of EASA
EASA acts as coordinating entity for activities not directly under Member States or European Commission responsibility and initiates the drafting, consultation and publication of Conflict Zone Information Bulletins both in cases of availability and unavailability of a common EU risk assessment.
Publication of Conflict Zone Information Bulletins (CZIBs)
In case of availability of a common EU risk assessment when a "high" risk level has been concluded, EASA will initiate the drafting of a CZIB which, in some cases, may contain an operational recommendation. Such recommendations are non-mandatory and do not constitute flight prohibitions.
In case of availability of a common EU risk assessment when a risk level lower than high has been concluded, the drafting of a CZIB highlighting the availability of national publications, when there are some, will be considered.
In the case of unavailability of a common EU risk assessment, the publication of CZIB's will be considered when a sudden emerging threat occurs, in order to share threat information that may be relevant for operators to take into account in their risk assessments. Validation of the threat information will be sought through the RCZ Network, and whenever relevant reference to national publications will also be added within the CZIB.
Conflict Zone Information Bulletin
A Conflict Zone Information Bulletin (CZIB) is a bulletin which can convey information or recommendations regarding Risks to civil aviation arising from Conflict Zones (RCZ).
All published Safety Information Bulletins (SIB) informing about risks to civil aviation arising from conflict zones remain valid, unless replaced by a CZIB affecting the same geographical area or Flight Information Region (FIR).
Stay informed on Conflict Zone Information Bulletins (CZIB):
Follow the category "Conflict zone"
Decide how you want to be notified
Disclaimer and Terms of Use
All information on the Conflict Zone Information Bulletin webpage is for general information purposes only, as similarly stated in the CZIB publications.
Information provided on the webpage should not be considered as the sole source of relevant information and should be used in conjunction with other relevant information, and in particular information issued by States.
---
Contact
Any inquiries regarding the Conflict Zone Information Bulletins, please use the CZIB contact us webform.
---
Useful links