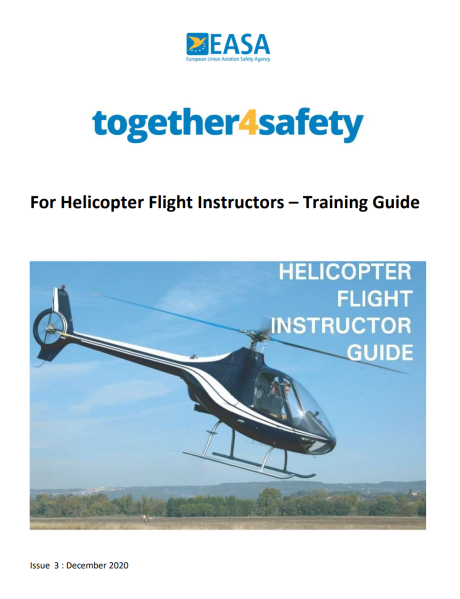 This is the third edition of the Rotorcraft Flight Instructor Guide, now badged as an EASA and Together4Safety document for the first time. The guide was initially developed by the European Helicopter Safety Team (EHEST) based on the Australian Civil Aviation Safety Authority (CASA) Flight Instructor Manual (Helicopter). CASA has kindly made this manual freely available to the EHEST for educational and safety promotion purposes. 
The EHEST closed in 2016 and was reestablished as the European Safety Promotion Network Rotorcraft (ESPN-R). EASA and ESPN-R safety promotion publications are branded Together4Safety to highlight the benefit of working together for enhancing safety. 
In this third edition of this Guide, further changes have been made to bring Part 1 in line with the requirements of AMC1 FCL.920 – Instructor competencies and assessment and the Teaching and Learning (Instructional Techniques) syllabus as set out in AMC1 FCL.930 – FI Training course. In Part 2, air exercise objectives and lesson checklists have been included for all the flying exercises. 
Other changes have been incorporated and sections re-written as a result of suggestions received following publication of Issue 2. Knowing that many instructors already have hard copies of Issue 2.2, this is also available in the downloads section to use as reference.  
You may freely download and use this Rotorcraft Flight Instructor Guide and add you logo if so you wish but should not remove the EASA and Together4Safety logos. Please read carefully the Important Notice and Disclaimer provided on page III of the document.
Readers are encouraged to provide feedback to ensure that any further versions meet industry needs. You can email your feedback to us at: SafetyPromotion [at] easa.europa.eu.