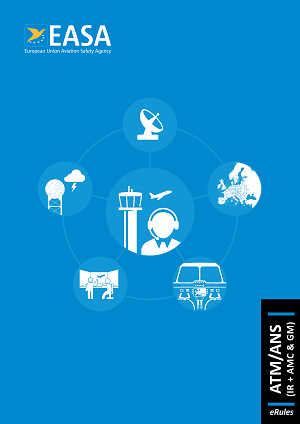 This updated document contains the applicable rules for the providers of Air Traffic Management/Air Navigation Services and other Air Traffic Management network functions, displayed in a consolidated, easy-to-read format with advanced navigation features through links and bookmarks.
It covers Commission Implementing Regulation (EU) 2017/373 and all its annexes, i.e. Annex I 'Part-Definitions', Annex II 'Part-ATM/ANS.AR', Annex III 'Part-ATM/ANS.OR', Annex IV 'Part-ATS', Annex V 'Part-MET', Annex VI 'Part-AIS', Annex VII 'Part-DAT', Annex VIII 'Part-CNS' Annex IX 'Part-ATFM', Annex X 'Part-ASM', Annex XI 'Part-ASD, Annex XII 'Part-NM', and Annex XIII 'Part-PERS', followed by the related Acceptable Means of Compliance (AMC) and Guidance Material (GM).
Being generated through the eRules platform, the document will be updated regularly to incorporate further changes and evolutions to the Implementing Rules, AMC and GM.
Thank you for sending us your feedback and comments to erules [at] easa.europa.eu.