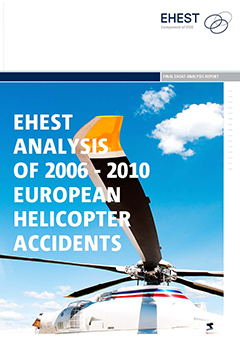 The EHEST European Helicopter Safety Analysis Team (EHSAT) published between 2008 and 2015 three accidents reports using an adapted version of the taxonomy developed by the IHST Join Helicopter Safety Analysis Team (JHSAT) and the Human Factors Analysis and Classification System (HFACS). 
EHSAT Regional Teams (RTs) spread all through Europe analysed hundreds of national accident reports and EASA aggregated and further analysed results centrally.
Published in 2008, the Preliminary Report 2000-2005 analyses 186 helicopter accidents occurred in Europe in that period.
The European Rotorcraft Forum (ERF) paper attached summarises the methodology and results.
Published in 2010, the Final Report 2000-2005 expands the analysis to 311 accidents.
Published in 2011, the Report 2006-2010 addresses 162 accidents occurred in Europe in that time frame, provides comparisons between 2000-2005 and 2006-2010 and a consolidated analysis for 2000-2010.
Although differences have been identified, results are globally consistent across time and also with the US and Canadian JHSAT reports.
Results have served as the basis to develop the EHEST Safety Promotion deliverables (data-driven approach).