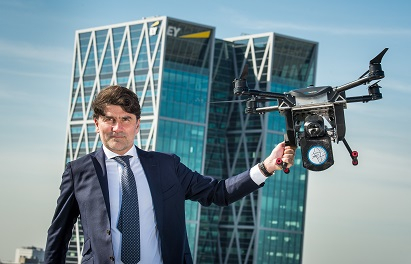 Until 2016 you had a long career in the Air Traffic Control of the Netherlands, including 8 years as CEO whilst also being the Chairman of the Executive Board of CANSO, what is your current relationship with the aviation world?
Based on my prior experience, I have an understanding of air traffic regulations and the importance of the safety of air travel. I see that the global market for drones will grow immensely in the coming few year. And that this industry needs a good European framework to unlock endless future technologies and applications. I have mobilized my contacts in the aviation and aerospace sector, governmental bodies and educational institutions and especially my contacts with EASA. Together with them we want to build an international platform that connects the entire UAS ecosystem to unlock the potential of the new solutions the drone industry can bring to societies. 
What does RAI and EASA have in common?
The drone industry is growing enormously, and we are seeing major opportunities to contribute to this by facilitating discussions, innovation and contacts. New European regulation for drones will be introduced in 2019, giving the sector a huge boost. A great deal is already possible in technological terms, and the coming years will show what businesses and organisations are willing and allowed to do with these new technologies, taking issues of privacy and safety into account. RAI and EASA are working very closely together here.
Could give us more details about the initiative "Amsterdam Drone Week"? (and related activities like the "Amsterdam city of drones"?)
From 26 to 30 November 2018, a range of activities in the field of drones will be hosted by the RAI under the flag of Amsterdam Drone Week (ADW). This platform is intended for all companies with operations in the UAS (Unmanned Aircraft Systems) sector or those who professionally deploy the relevant technology. The various activities will focus on Smart Mobility, Regulations, Technology and Solutions. Amsterdam Drone Week is a co-created events festival, that unites the brightest and most creative minds of the UAS Industry, showcases the latest technology and helps unlock the potential of drones and discovery of new applications. For the duration of one week, this umbrella event connects the entire UAS value chain through a diversity of events around drone regulations, new technology and future solutions.
EASA will also organise its High-Level Conference on Drones 2018 together with the Ministry of Infrastructure and Water Management during ADW. ADW invites all start-ups, regulators, corporations and academic institutions to contribute ideas and initiatives. 
What do you look forward to during the Amsterdam Drone Week?
With its focus on education, innovation and technology, the city of Amsterdam is a perfect base to bring all these aspects together. Until now, most drone events were local and aimed at consumers. With this initiative, we are able to create a platform on a global scale, helping the sector develop as a whole. That platform will all come together during Amsterdam Drone Week. I have very excited and looking forward to the end of November. 
Paul Riemens is CEO/ Chairman of the Executive Board at RAI Amsterdam, a leading international exhibition and conference organization in Europe. He has made his career in the aviation sector. He has been CEO and chair of the board at Air Traffic Control the Netherlands (LVNL) since 2008, during which time he successfully converted the organisation into a results-oriented, open company. Since 2011 Paul Riemens is Chairman of the CANSO Executive Committee. CANSO is the Civil Air Navigation Services Organisation,. He has proven his capacity to operate in an international arena in which stakeholder management is critical to success. In addition, he is considered a passionate person who connects people and ideas. He believes connecting the value chain of the UAV industry now, gives the industry a head-start when regulation falls into place.