One of the key elements of Safety Management is managing safety risks, which means identifying hazards, assessing the risks and making decision on the best course of action to mitigate them. Industry organisations and States are also required to do this within the scope of the activities they have to manage. The regional approach complements national approaches offering a more efficient means of discharging States obligations for Safety Management in the EU's aviation system.
At the European level this process is carried out in coordination with States and industry because they are part of one aviation system. It is documented in the European Plan for Aviation Safety (EPAS). The EPAS covers a five year period and is reviewed and updated on a yearly basis by EASA. 
The EPAS includes the complete set of EASA rulemaking tasks and is organised in four drivers: safety, environment, efficiency/proportionality and level playing field. The Strategy and Programmes Department is responsible for its development.
Safety priorities and concrete actions are based on the safety data and information that is continually gathered and processed at the European level. Main sources for the 2019-2023 edition include the EASA Annual Safety Review, the EASA Standardisation Annual Report, and the Air Traffic Management (ATM) Master Plan. Due consideration is given to the safe integration of new technologies and concepts. Strategic enablers are further developed to include safety promotion and digitalisation. Stakeholders may also raise efficiency or level playing field issues not necessarily linked to safety in the first place. The candidate actions resulting from safety, efficiency and level playing field issues are further assessed. Intervention strategies are then defined to address these issues: the outcome is validated on the basis of Best Intervention Strategy (BIS) reports to support potential inclusion of actions in the EPAS. The implementation of these actions is subject to resource availability and strategic priorities. BIS replaces the former Preliminary Impact Assessment (PIA).
Safety, efficiency and level playing field priorities are aligned with EASA's strategic plan (included in the Single Programming Document 2019-2023), integrating the input received from stakeholders.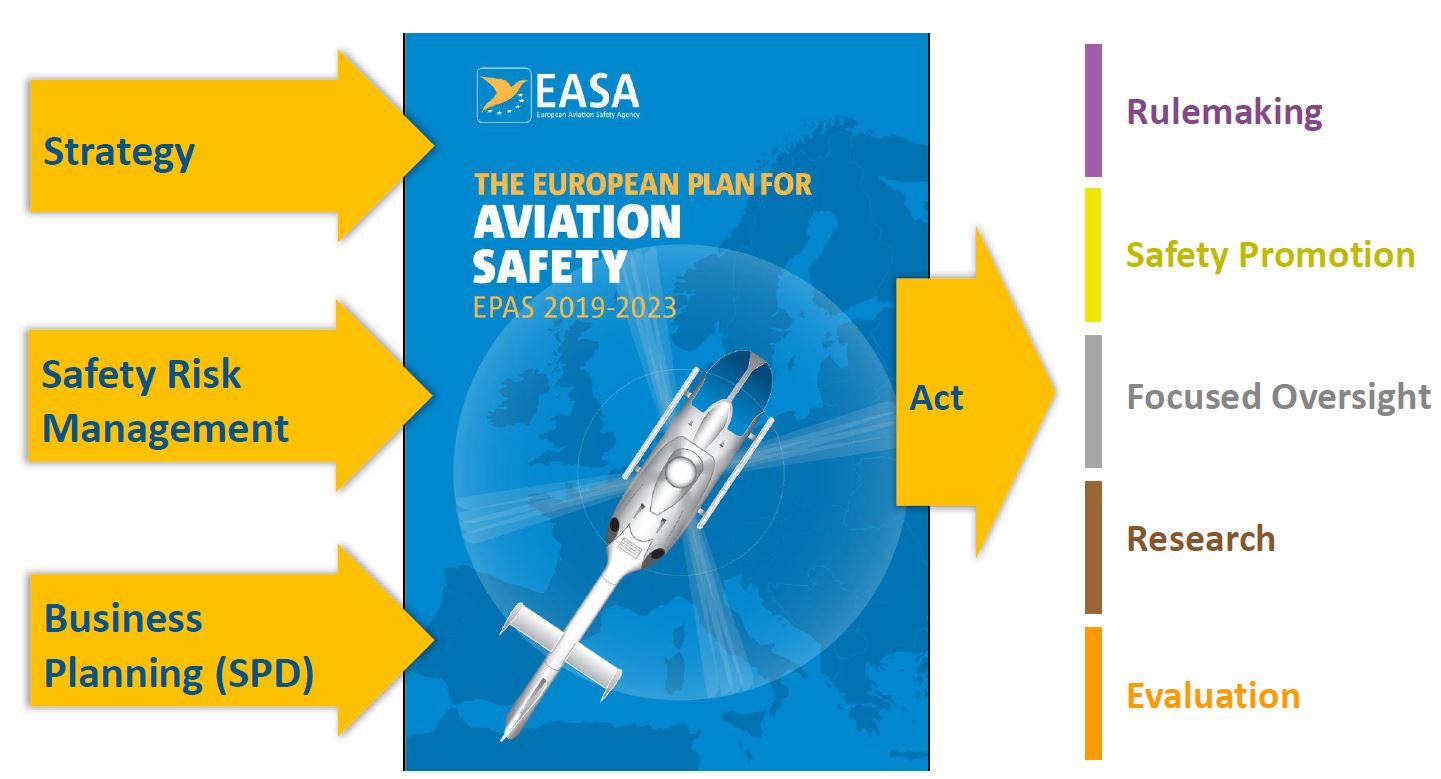 How to submit a new proposal to be included in EPAS
A new proposal, such as a new issue or a proposal for a new action to be included in the European Plan for Aviation Safety (EPAS) can be submitted at any moment. For this purpose please use the new Candidate Issue Form. This form is meant to encompass a larger range of proposals for actions, including proposals for new rulemaking tasks/activities as well as the identification of new issues.
EPAS and stakeholder groups
Group
Purpose
Products

Member States Advisory Body (MAB)

Provide strategic advice

Strategic priorities

Stakeholders Advisory Body
(SAB) 
 
Review strategic orientation and performance indicators
European Plan for Aviation Safety
Technical/Sectorial Bodies (TeB, TeC, Sectorial Committees) 

Provide technical and operational advice

Provide feedback on implementation

Best Intervention Strategy reports

Rulemaking, safety promotion, focused oversight, research/studies
Collaborative Initiatives
Network of Analysts (NoA)

Collaborative and Analysis Groups (CAG) 

Data4Safety

Analyse and assess safety risks to inform decisions

Annual Safety Review

Safety Risk Portfolios

Safety Issue Assessments                      
EPAS 2020-2024 development - milestones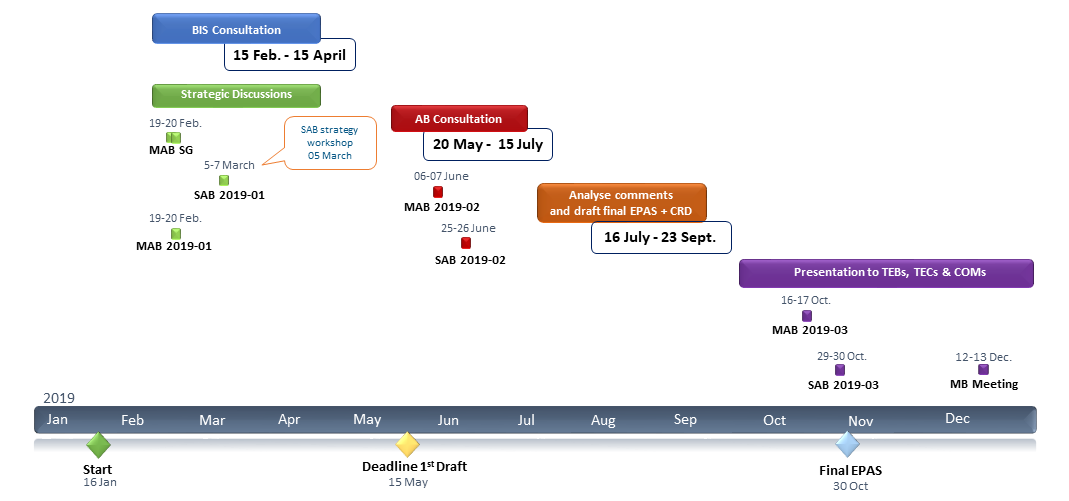 For further information about the EPAS or to provide feedback do not hesitate to contact us at EPAS [at] easa [dot] europa [dot] eu.
Back to top