Workshop on Level of Involvement with EU Propulsion design organisations
On-site event
Image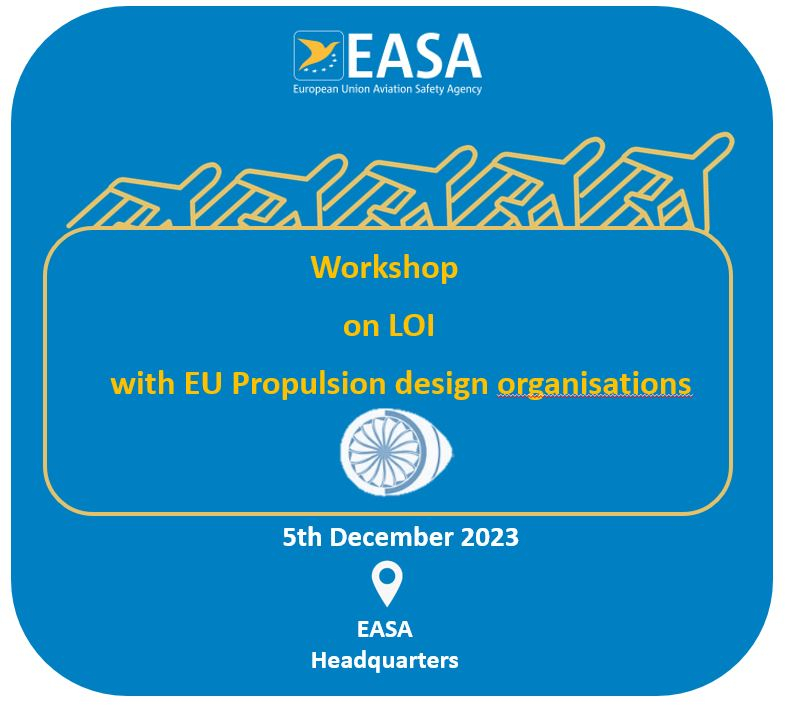 Event dates
05/12/2023, 09:00 - 16:00 CET (UTC +1)
Description
On 3 June 2019, the European Commission published Commission Regulation (EU) 2019/897 amending Regulation (EU) No 748/2012 as regards the inclusion of risk-based compliance verification, introducing in the certification process an element commonly referred to as "Level of Involvement (LOI)". Based on this amendment, the LoI became effective and mandatory on 23.03.2020.
EASA will conduct a one day workshop with EU Propulsion design organizations. The objective is to review and discuss practical experience to date, identify areas with potential room for optimization and efficiency gains, as well as to receive feedback from propulsion organizations regarding the consistency of LoI implementation by EASA at the level certification projects.
As an outcome, we aim to outline best practices in this area.
The audience will be a selection of EU Propulsion DOAs, EASA and NAAs propulsion PCMs, and DOATLs. The attendees will be kept however to a limited number in order to ensure active discussions and participation during the Workshop.
Ahead of the Workshop, EASA will circulate a survey to the invited DOA organisations. The survey will help EASA to better tailor the discussions during the workshop.
We thank you in advance for your contribution to this survey.
Agenda
The agenda of the workshop and further information including procedural guidance will be provided at a later stage.
Get notified via email alerts
You don't want to miss any news about this event? Follow this event to receive updates.
Contact
For queries please indicate in the subject: "Propulsion LoI Workshop 2023".
Contact email
propulsion [at] easa.europa.eu