An important and effective way to lower emissions stemming from aviation are 'Market-based Measures' (MBMs), which are designed to complement technological solutions, such as new aircraft designs, more efficient operations and the use of sustainable aviation fuels.
This article concentrates on two existing MBMs that cover aviation activities, namely: the EU Emissions Trading System (ETS) and ICAO's Carbon Offsetting and Reduction Scheme for International Aviation (CORSIA).
Market-based measures or MBMs
Market-based measures (MBMs) are instruments designed to address the climate impact of aviation, and thereby helping to reduce emissions. These additional tools reach beyond what operational, technological measures or sustainable aviation fuels can achieve and are instrumental to reach the ambitious goals set for the aviation sector. The underlying concept of an MBM is to internalise the external cost of carbon emissions, thus incentivising investments by the aviation sector to reduce its carbon footprint. In short: the sector has a vested interest to reduce emissions as they are charged back to them.
Emissions trading systems & offsetting
Emissions trading systems (e.g. EU ETS) and offsetting schemes (e.g. CORSIA) both address aviation emissions but differ in how they function. ETSs generally work towards economy-wide emission reduction targets (so-called "caps"), while offsetting schemes compensate for emissions by reductions in other sectors but without the associated cap.
EU Emissions trading system (ETS) - cap-and-trade scheme
EU ETS is a cap-and-trade system, setting a limited number of emissions allowances to airline operators, constraining the total amount of emissions of the sector. ETS is the cornerstone of the European Union's policy to combat climate change.
The total number of emissions allowances is limited ('capped') and decreases over time through a linear reduction factor, thus ensuring that the objective of an absolute reduction of the level of CO2 emissions is met at the system level.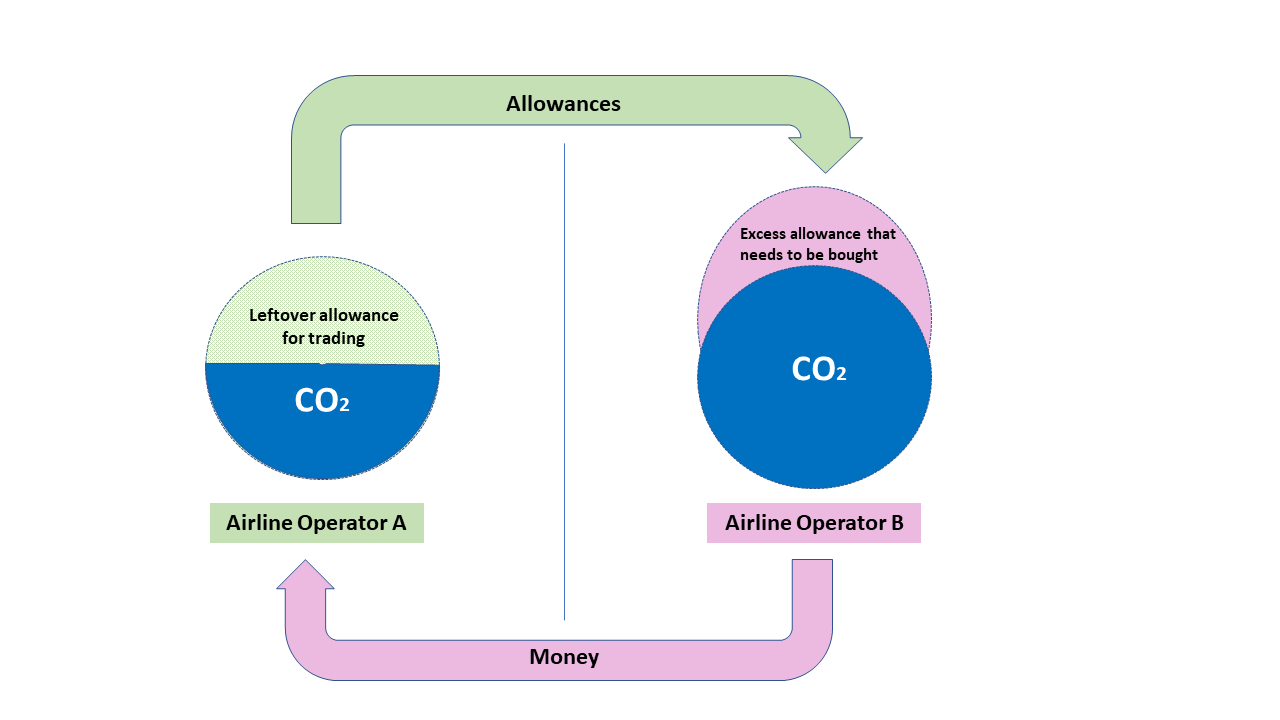 Example:
Airline Operator A has not used all of the emission allowances allocated to them and is therefore in a position to sell them to Airline Operator B.
Airline Operator B used more emissions than available to them and therefore needs to buy additional allowances from Airline Operator A.
Airline operators can trade their excess emission allowances with another airline operator who encounters / produces emissions exceeding their own allocation.
This means that, overall, the amount of emissions are:
Capped at a certain level

Gradually decreased

, allowing the aviation sector to meet its emissions targets.
The supply and demand for allowances establishes their price under the EU ETS, and the higher the price, the stronger the incentive to reduce emissions. Part of the revenues generated through auctioning of allowances is channeled into the Innovation Fund, which will provide support for commercial demonstration of innovative low-carbon technologies, aiming to bring to the market industrial solutions to decarbonise Europe and support its transition to climate neutrality.
Goal: EU ETS is expected to result to an economy-wide emissions reduction of 43% in 2030 compared to 2005 levels for the sectors covered by the ETS.
ICAO CORSIA – Offsetting scheme
Principle: The Carbon Offsetting and Reduction Scheme for International Aviation (CORSIA) is an offsetting scheme. Emission reductions that cannot be achieved within the aviation sector can be compensated through emission reductions in other sectors where the potential for quicker reductions is greater and the associated costs are lower. CORSIA applies to flights between two States, both of which participate in CORSIA.
Goal: The objective of CORSIA is to reach Carbon Neutral Growth from 2020 onwards - that is, to ensure that the net CO2 emissions from international aviation do not exceed the 2020 levels. Airline operators will be required to purchase offset credits in order to compensate for CO2 emissions exceeding the 2019-2020 baseline.
This means that:
Net CO2 emissions are limited to 2020 levels, any net CO2 emissions above 2020 levels will be offset through CORSIA

Emission reduction across sectors

, allowing holistic approach to emission reductions.
For more information, please visit the ICAO website.
Robust and reliable emissions reporting – delivering on emission reductions
Both the EU ETS and CORSIA include similar Monitoring, Reporting and Verification (MRV) systems, which are aimed to ensure that the CO2 emissions information collected through the scheme is robust and reliable. The MRV system in a nutshell:
---
States' Competent Authorities check and approve an Emission Monitoring Plan proposed by each airline. Airlines will monitor their CO2 emissions either through a fuel burn monitoring method or an estimation tool.
---
The necessary CO2 information will be compiled on an annual basis and reported from airlines to their Competent Authorities.
---

A third-party verification of CO2 emissions information ensures that the reported data is accurate and free of errors. A verifier must be independent from the airline, follow international standards in their work and be accredited to the task by a National Accreditation Body.
---
EU ETS and CORSIA evolved over previous years and will continue to do so in the future. Both will address emission reductions in addition to what ca be achieved by technology, operational measures and sustainable aviation fuels. More information and facts will be published in the next edition of the European Aviation Environmental Report (EAER) which is scheduled for publication during 2022.
Impact for passengers
MBMs such as EU ETS and CORSIA and associated carbon emission costs should be seen as an instrument to incentivise investments by the aviation sector to reduce its carbon footprint.
Historically, carbon costs have accounted for approximately between 0.2% and 1.3% of total operating costs for airlines, which represent a small portion of total costs compared to, e.g., aviation fuel.
Although it is possible that the airlines will pass the cost of purchasing ETS allowances and/or CORSIA offset credits to passengers fully or partially, the impact on ticket prices depends on various factors, including the distance of the flight and competition level on a particular route.
EASA's contribution
EASA is closely involved in the work on MBMs. This includes, i.e.:
Technical support to the European Commission on MBMs, including CORSIA standard-setting through relevant ICAO forums and support in the implementation of the EU ETS.
Support to international partners in the implementation of CORSIA through EASA's international cooperation projects, for example in the Southeast Asian, Pacific Islands, African, Caribbean and Latin American regions.
Conducting research activities on MBMs, which covers projects under the Horizon 2020 research programme as well as under the Horizon EU programme that have increased rapidly over the last years.