Around 2,000 participants followed EASA's drone live streaming events in December 2020, raising lots of questions from the leisure drones community, and from drone operators who fly drones for business purposes, that were answered by EASA.
Streaming event videos on EASA's YouTube channel 
Watch the videos for each of the sessions and have a look at the set of Q&As resulting for each of the event.
Operating a Drone for fun – some simple steps before you fly 
Get registered online with the National Aviation Authority in the country where you are resident, train and pass an online exam, get an online remote pilot's certificate and plan and prepare before every flight. 
Who can fly what type of drone?
The schematic view gives you a good overview about who can fly what drone in what subcategory under what conditions. Read it carefully, it will help you with your decision what drone to go for. 
Click on the image to open and download the PDF.
Infographics - download and share with other drone operators
A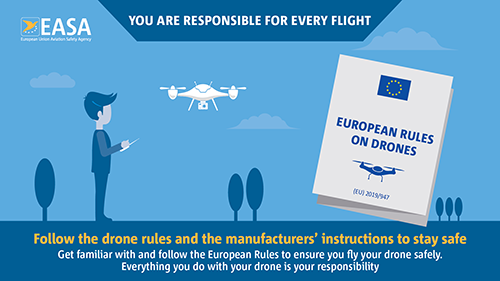 nd there is more! The infographics are available for you to download and to share throughout the drone operator community. All aspects are covered and ready for you to discover.
The main aspects for operating your drone safely
Follow the rules and your drone' instructions manual
Register as a drone operator.
Complete the online training and tests

… and a lot more, have a look on EASA Pro 'Infographics for Drones'.
 
Drones Information Notices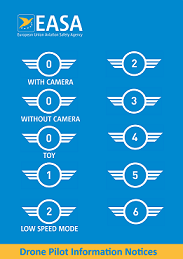 Leaflets for all drone classes (class 0 - 6), with translations in EU languages have been published, making it easier for everyone to understand and familiarise themselves with the requirements. 
The leaflets highlight the do's and don'ts for drone operators and pilots. You will find them in the packaging of any drone you buy – or you can download from this website.
Non-EU residents visiting Europe and bringing their drones
Are you planning on bringing your drone to Europe? 
Have a look at our poster to find out what you need to do.
EASA Pro – more on Civil drones (Unmanned aircraft)
There is a lot more information available on the EASA Pro website, so if you are looking for more information, take a look:
Frequently asked questions (FAQ)
Civil drones (Unmanned aircraft) and related pages