To help you with your air travel, EASA and the European Centre for Disease Prevention & Control (ECDC) updated the COVID-19 Aviation Health Safety Protocol with details on how to assure the health safety of air travellers and aviation personnel during your time of travel.
The press release and updated protocol can be accessed on EASA Pro, our website for aviation authorities, industry & professionals.
EU Websites, Apps & Information
The European Commission is doing its utmost to allow people to meet friends and family and to ensure free movement of citizens, goods and services – with full respect of health and safety measures.
The Commission launched several initiatives to help citizens travel safely across Europe. Visit their websites and apps to get all relevant information:
FAQs and Posters for Passengers' Health Safety & Wellbeing - COVID-19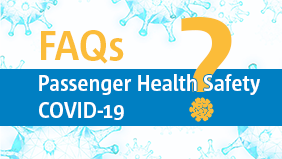 EASA updated the catalogue of FAQs to help passengers with air travel in respect to COVID-19.  
Have a look at the FAQs on how to prepare and stay healthy during your travel.
EASA & ECDC have summarised the most important elements from the passenger perspective in a poster: 
The poster is also available in different layout formats and languages on EASA Pro.