The aviation industry is founded on its dedicated, professional people. At the start of 2020 we could never have imagined what the aviation community is going through right now. It doesn't matter what role you have in our industry it is possible that you may have been impacted in some way by COVID-19. The best way we can all get through these challenging times is by looking after ourselves and those around us.
3 Sources of Information
There are 3 different sources of information for the helicopter community that you will hopefully find useful.  
1. EASA - EHA Wellbeing and Careers Support Webinars
EASA and EHA have teamed up with other organisations to develop some webinars and career support material specifically for the helicopter community. The first webinar on Wellbeing led by EASA and the T-C Alliance is below. The next videos will follow in the coming weeks. 
2. Together4Safety Wellbeing Resource Hub
In February 2021 the Wellbeing Resource Hub was launched to provide a wide range of tools, information and material on lots of different subjects. It's designed for the whole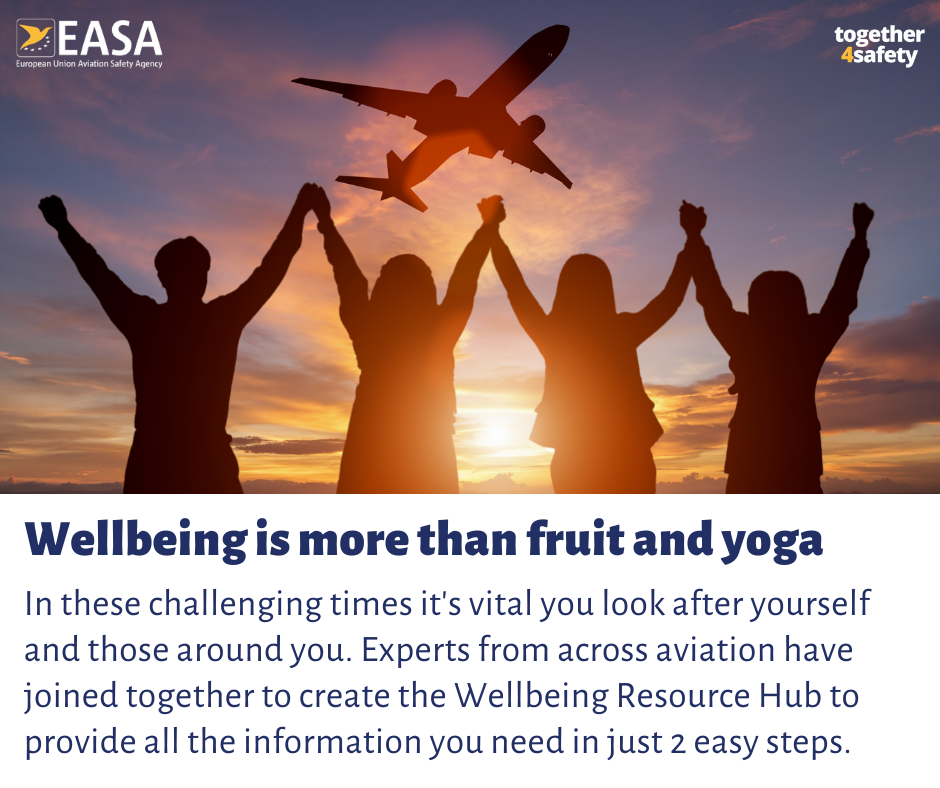 3. Careers Support Material
The third resource is the Careers Support Hub with lots of useful information if you find yourself in the tough position of having to look for another job. Experts from across Europe have come together to provide lots of useful tips on subjects from CVs to interview skills, personal branding and plenty more.
One of the positive things that has come from this crisis has been the way our community has come together to help and support each other. EASA Together4Safety has collaborated with T-C Alliance and a wide range of other organisations to create this Wellbeing Resource Hub to provide easy access to information to help you.
The first part of the Resource Hub is now available and is made up of two parts:
A comprehensive careers training package aimed at providing advice and skills to help individuals transition, once again, into gainful employment.
Useful information on Wellbeing to help everyone in the aviation community.
Remember, we will get this crisis by supporting each other and working together.