International Helicopter Safety Foundation (IHSF)
With endorsements from participants of the 2005 International Helicopter Safety Seminar (IHSS), leadership from AHS, HAI, manufacturers and other interested organisations, and the U.S. Federal Aviation Administration (FAA) joined together to form what is now called the International Helicopter Safety Foundation (IHSF), which was previously called the International Helicopter Safety Team (IHST).  EASA, the European Helicopter Association (EHA) and Airbus Helicopters are members of the IHSF Executive Committee.  Our European Safety Promotion Network – Rotorcraft (ESPN-R) are also key contributors to the global safety effort. 
The IHSF agreed to develop and implement a data-driven, benefit-focused safety program designed to continuously reduce the risk of helicopter accidents. It set an aggressive goal of reducing the worldwide helicopter accident rate by 80% in 10 years (by 2016). The IHSF chartered a Joint Helicopter Safety Analysis Team (JHSAT) to develop data-driven safety recommendations in pursuit of the goal to reduce the accident rate and fatality risk. The JHSAT membership consisted of key stakeholders in the helicopter design, manufacture, operation, training and regulatory communities.
A Data Driven Approach to IHSF
Accordingly, the JHSAT adapted and refined the methodology from the Commercial Aviation Safety Team (CAST) to analyse helicopter accident data to recommend safety enhancing interventions.  Integral to that process was developing event sequences, problem statements and intervention strategies that corresponded to the problem statements. Three basic tenets of the CAST process were maintained:
Solutions must be based on actual accident data, i.e., data-driven;
Helicopter community stakeholders from the region must perform the analyses;
Implementation of the resulting safety improvement recommendations should be measurable.
IHSF Regional Teams
IHSF has set up various Regional Teams worldwide, including the ESPN-R as mentioned before, which was previously born as the European Helicopter Safety Team (EHEST) in Europe.
At global level, there were four common themes in the analysis. These led to the first set of intervention recommendations: 
Implement Safety Management Systems (SMS).
Improve training (including simulator/flight training device utilization, and aeronautical decision-making).
Improve maintenance practices.
Leverage new technologies though new systems and equipment
IHSF has published numerous deliverables: analysis reports, toolkits, videos, recommended practices, airmanship bulletins, essays, fact sheets, key charts, safety bulletins and guides, presentations and press release.
The IHSF website has more than 160 documents – they are a very rich repertoire of safety resources so make sure to check this out as well!
European Safety Promotion Network Rotorcraft (ESPN-R)
The European Safety Promotion Network Rotorcraft (ESPN-R) is a mixed industry-authorities team established in January 2017 by the Rotorcraft Sectorial Committee (RSC), since renamed the Rotorcraft Committee (R.COM). It develops, disseminates and evaluates Safety Promotion material and actions on a voluntary basis in support of the R.COM, of EASA and of the industry. The ESPN-R can also contribute to Safety Promotion campaigns.
ESPN-R contributes to the implementation of rotorcraft Safety Promotion actions from the European Plan for Aviation Safety (EPAS), rotorcraft section, and from the EASA Rotorcraft Safety Roadmap, and can suggest Safety Promotion actions for inclusion in the EPAS or other considerations.
Scope includes but is not limited to operations and (Safety) Management Systems, training and emerging safety-enhancing technologies, for which R&D material, studies, previous European Helicopter Safety Team (EHEST – closed in 2016) work and expert advice is considered. ESPN-R also contributes to ensuring that Safety Promotion material reaches the target audience in addition to authority and industry channels. The ESPN-R facilitates the European Safety Promotion Network Rotorcraft forum on LinkedIn with over 1600 members and a more specific forum on Hoist Operation Safety Promotion. ESPN-R also organises an annual Safety Workshop in EUROPEAN ROTORS VTOL Show and Safety Conference.
ESPN-R manages relations with the International Helicopter Safety Foundation (IHSF) on behalf of the R.COM and informs and coordinates on rotorcraft Safety Promotion with the Safety Promotion Network (SPN), established by EASA in 2016. 
Airbus Helicopters General Safety Information
As part of its commitment to safety, Airbus Helicopters develops Safety Information Notices and other technical publications to provide customers with valuable information related to the company's products and services. This section contains some of these documents. Airbus Helicopters customers can consult the entire library of technical publications through the company's Technical Information Publication on Internet (T.I.P.I) according to their subscription.
HAI Land & LIVE
Precautionary landing is the one tool in every pilot's toolbox that can prevent almost every accident chain. The HAI Land & Live campaign focuses specifically on this key decision that can really save lives.
Is your flight not going well?
Do you have an illuminated caution or warning light?
Are your passengers not feeling well or is the weather turning?
As the pilot in command, only YOU decide if you should continue the flight.
The HAI Land & LIVE key message can save your live and those of your passengers: When something's not right, whether it's weather, a sick passenger, or low fuel, choosing to land instead of pushing it can make all the difference in the potential outcomes.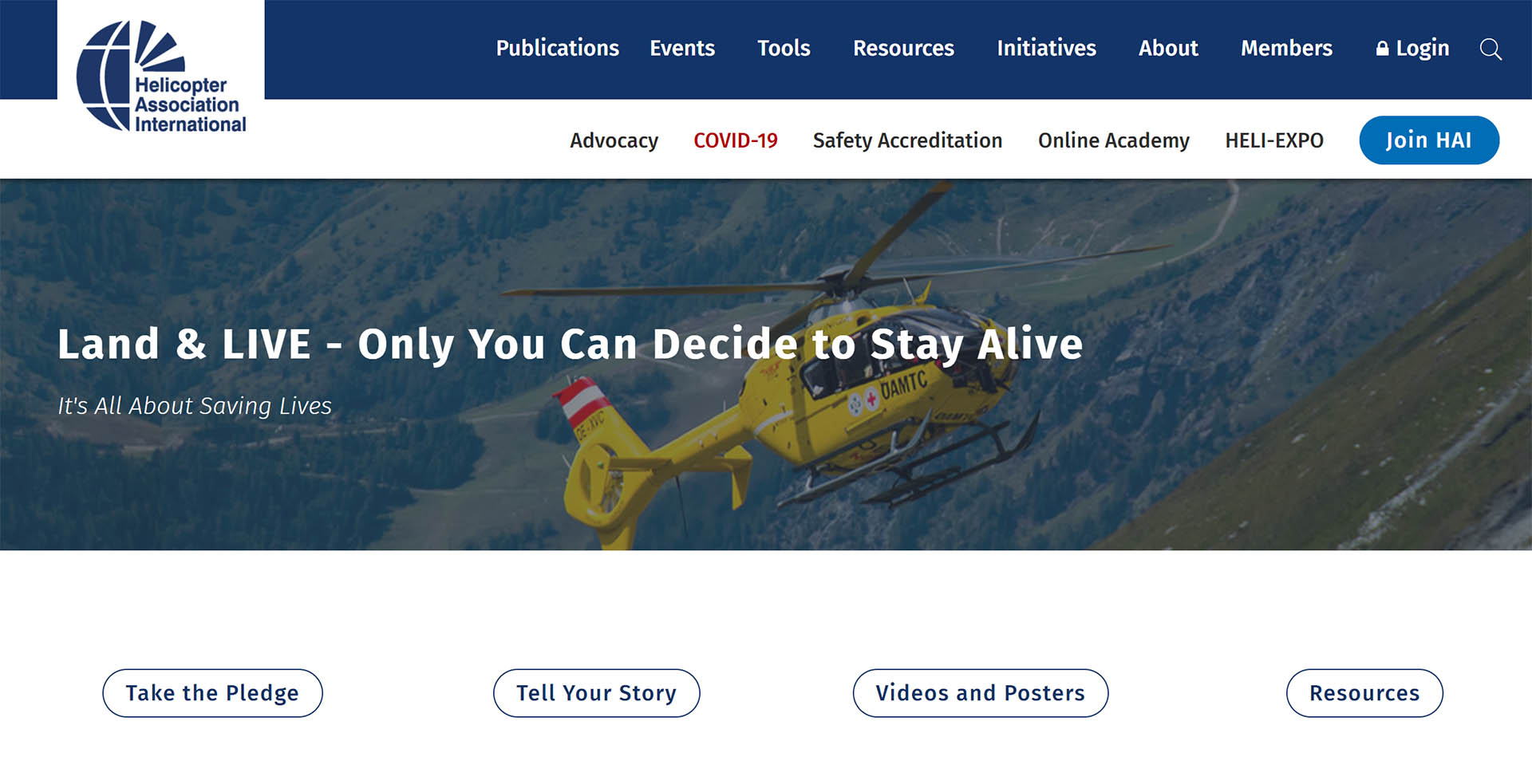 EASA Safety Promotion Network (SPN)
The Safety Promotion Network (SPN) is a partnership between EASA and the National Aviation Authorities (NAAs) of the Member States. The objective of the SPN is to enhance aviation safety in Europe by providing a framework for the collaboration of safety promotion activity throughout the EASA Member States. For mutual benefit and a common purpose SPN members take on these objectives:
Exchanging information.
Coordinating activities.
Cooperating and sharing joint activities.
Collaborating to increase the capacity for activities.
SPN activities include coordinating, cooperating and collaboration with respect to the design, development, publication, translation and dissemination of safety information. The SPN also explores common tools and develop means to measure the effectiveness of Safety Promotion products that have been disseminated.
GASCO Safety Initiatives
GASCo is the UK General Aviation Safety Council, working for improving flight safety for over 50 years.  GASCo has launched four safety initiatives aimed at Fixed Wing and Rotorcraft GA pilots.  They host safety evenings that are designed to provide an opportunity to reflect on General Aviation (GA) safety as it affects the GA pilots and the people they fly with. They have a number of other initiatives that will be of interest to many pilots. 
Airspace Infringement Awareness Courses
These courses form a unique training package targeting infringing pilots jointly developed by the UK Civil Aviation Authority (CAA) and GASCO.  
Take 2
The Take 2 Airspace Infringement related campaign passes two messages to GA pilots:
Plan to stay 2nm from edge of Controlled Airspace
Plan to stay 200 ft above or below Controlled Airspace  
Maintaining Personal Currency
And GACSo recommends maintaining personal currency as an effective barrier in the prevention of those accidents attributable to lack of recency or skill.
European Strategic Safety Initiative (ESSI)
(Integrated into the EPAS Processes in 2016)
Created in 2006, the European Strategic Safety Initiative (ESSI) was an aviation safety partnership between EASA and industry. In 2016 it was evolved into the EPAS processes so that it had wider impact through the strategic activities of EASA. At the time, the ESSI's objective was to further enhance safety for citizens in Europe and worldwide through safety analysis, implementation of cost effective action plans, and coordination with other safety initiatives worldwide.  ESSI had set up three safety teams:
European Commercial Aviation Safety Team (ECAST)
European Helicopter Safety Team (EHEST)
European General Aviation Safety Team (EGAST)
All of the teams performed some excellent work and this is not lost. The main deliverables and outputs from the teams are made available through the Domain Together4Safety websites.  This means that you will find all the helicopter safety materials here in this site. 
European Helicopter Safety Team (EHEST)
EHEST brought together manufacturers, operators, research organisations, regulators, accident investigators and a few military operators from across Europe. Co-chaired by EASA, Airbus Helicopters and the European Helicopter Association (EHA), EHEST was the helicopter branch of the European Strategic Safety Initiative (ESSI). 
EHEST was committed to the objective goal of reducing the helicopter accident rate by 80 percent by 2016 worldwide, with emphasis on improving European safety. EHEST had three a plenary team and three specialised teams:
European Operators Coordination Group on Flight Data Monitoring (EOFDM)
The European Operators Flight Data Monitoring (EOFDM) forum is a voluntary partnership between European Operators and the European Union Aviation Safety Agency (EASA). EOFDM seeks to help operators with their implementation of Flight Data Monitoring (FDM) programmes and to help draw the maximum safety benefits from this key activity. This group started mainly to support the airline community but with the expansion of FDM into the helicopter community they are also developing solutions in this area. All the deliverables related to rotorcraft will be published on this site, just go to the Safety Topics A to Z and look for FDM.