Aviation is going through a tough time at the moment. As we recover from the challenges of the COVID-19 pandemic, we have a better chance of having a successful summer when we work together as an industry. No individual or organisation can operate alone - we are Stronger, Safer, Together. By communicating effectively, coordinating at operational level and sharing our experiences we can be ready for summer and set a path for an exciting future beyond. 
You can access all the recordings from the EASA Safety Week 2022 on the Together4Safety Youtube here. 
Safety, Always 
For 2022, EASA Together4Safety is rebooting the ramp-up campaign from last year. As we all look more positively towards a hopeful future for aviation after a difficult 2 years, there is one word that sums up our collaborative efforts. That word is "Always". 
Our goal with Together4Safety is to provide useful information that engages the industry  in positive conversations about safety so that the aviation community can deliver the safety capacity needed to ensure safe operations. These efforts are not something we do for just the Campaign period, or for our Safety Week. They are the values that bind our industry and our passion for aviation. 
The safety map
Safety often seems so complicated. There are a lot of things your organisation needs to do in order to satisfy your regulatory requirements. With manuals to be written, reports to assess, risks to classify and then audits to complete, you can easily get sucked into the complexity of the process.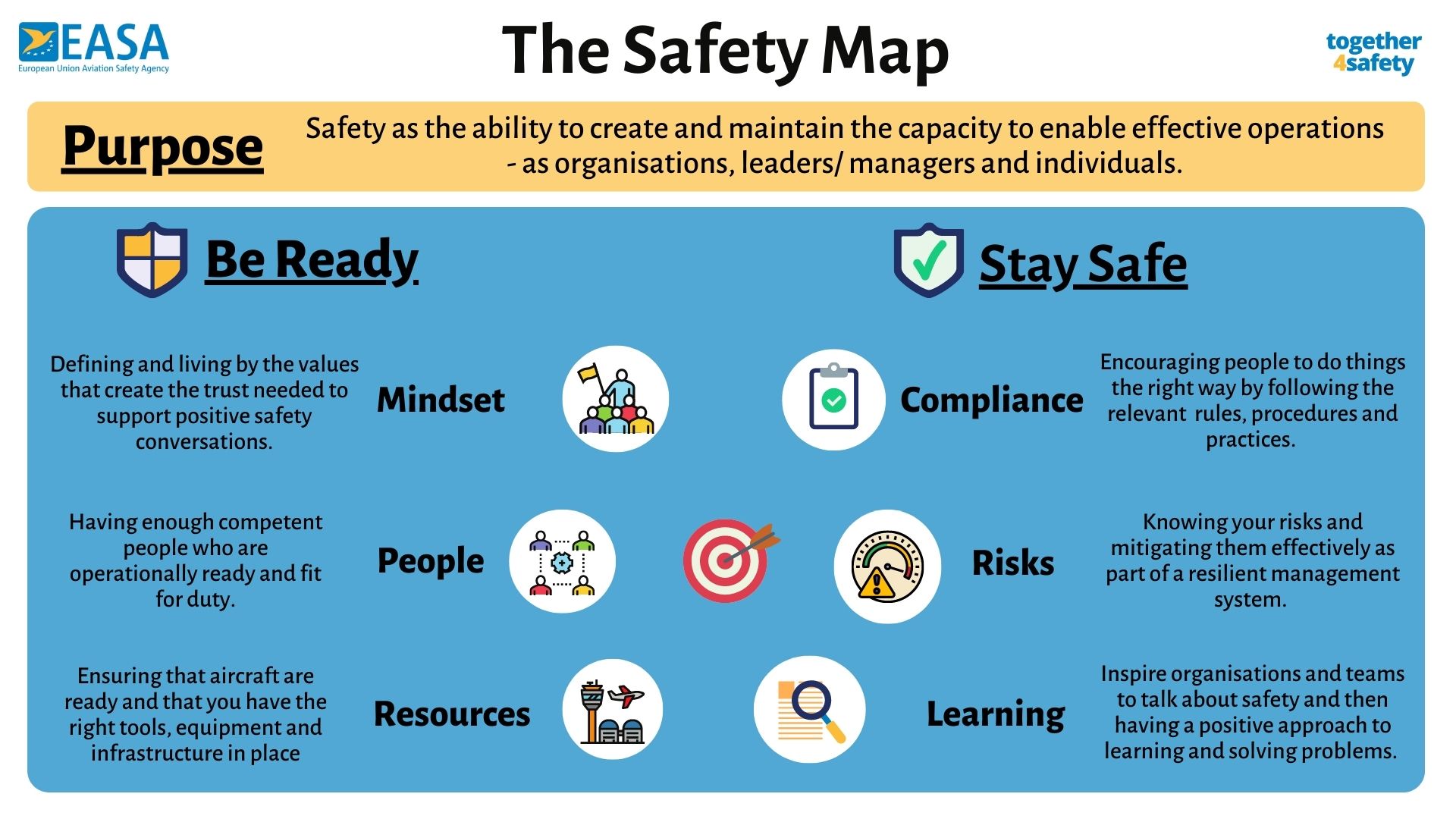 The 6 safety principles of Stronger, Safer, Together are designed to help you focus on the core purpose of your Integrated Management System (IMS). Safety is not an outcome in itself but the capacity and activities needed to ensure safe and effective operations. 
You might wonder why we use the acronym IMS and not SMS that you may be used to. In the modern aviation world you will be facing additional threats from Health, Cyber and Physical Security risks in addition to the more traditional safety risks you will be used to managing. 
You can use these 6 safety principles as part of conversations in your organisations and teams to see how things are going and to continually improve. Moving forward we will use these principles to set out our future safety promotion material. 
A range of resources to help you and your organisation?
More about the 3 parts of "Stronger, Safer, Together"
In aviation, we all share a common goal. Safe and effective operations. Regardless of your job in the industry we all have the same passionate and excitement for aviation. We also rely on each other to get our passengers or cargo safely from one place to another. It's truly a team effort and this is why we are "Stronger, Safer, Together": 
After such tough times during the COVID-19 pandemic we are all working to rebuild both an industry and our aviation community. This is why these 3 parts of the Campaign are so important. 
Operating safely:
We can never take safety for granted, ensuring safe operations is everyone's responsibility whether they are senior leaders, operational management or frontline aviation professionals. Download the campaign resources from this page. 
At the heart of this is the concept of "Be Ready and Stay Safe" that is based on EASA's COVID-19 Safety Issues Report. Consider how the different safety issues are being addressed in your organisation. The top safety issues have also been taken across into the EPAS (Volume 1 - Page 41). There are many new and evolving risks you have to consider - this is why its important to have an open safety culture that encourages positive conversations about safety and work together to manage risks appropriately in day-to-day operations.
Managing the passenger journey:
One of biggest challenges we face is to rebuild passenger confidence. Put simply, many people are still scared to fly - for all sorts of reasons. With so many parts of the passenger journey taking place online we need to help passengers feel welcome and comfortable as they start to fly more often. We want people to be able to tell their friends about their positive experiences when they fly. This requires all stakeholders to coordinate their efforts in implementing the EASA-ECDC Aviation Health Safety Protocol (AHSP). It's vital that we work together, walk in the shoes of our passengers, identify the health related pinch points that ruin their journey and take immediate action at operational level to resolve them.
Join us and be part of the new AirSmiles Campaign as we encourage our passengers to "Show us their Airsmiles" now that the masks have come off. If you are interested to join the AirSmiles Campaign, contact us at safetypromotion@easa.europa.eu. 
Caring for our people:
The pandemic has brought wellbeing and psychological safety into great focus. The success and safety of aviation relies on our talented aviation professionals being able to perform to the best of their abilities. People find themselves in many different situations at this stage of the pandemic and it is vital to think continually about the impact of wellbeing on human performance and manage the associated risks within your SMS . Wellbeing is a shared responsibility between organisations and staff. Organisations should use the resources in the Wellbeing Resource Hub to support their staff and as individuals use the material to continually practice self-care.
Latest Material