What is Safety?
Has everything become too complicated? We do lots of 'things' in the name of 'Safety' but, ultimately, do we really understand the real purpose of the 'things' we do in the name of safety. Most importantly do we really understand how they contribute to safe and effective operations?
What does safety mean to you?
Is it an outcome, something to be achieved? Are you a "target zero" person where is safety is something that means driving towards having no bad events at all?
Let's start with the ICAO definition:
The state in which risks associated with aviation activities, related to, or in direct support of the operation of aircraft, are reduced and controlled to an acceptable level.
A new way to think about Safety?
For the purposes of the Safety Map of the World, let's consider safety as the things that are needed to minimise the chance of causing harm. This means that you need to know what is the "Stuff that might kill you (STMKY)", are you controlling the risks of the STMKY and are those controls working. Oh, and is there is anything else that you might have missed.
Together4Safety exists as a collaborative approach to help us all understand safety more easily and then to help us all have positive conversations about the things we need to achieve safe outcomes every day. Rather than just talk about specific safety issues we thought it might help to show how everything is connected. This is what the Safety Map of the World was created for. 
Aviation is made up of lots of complex (sometimes competing) components involving many different and diverse stakeholders. As we get further into the various subjects, topics and themes, the connections between these components become more obvious. These connections then make it easier to really focus our safety efforts in the right places.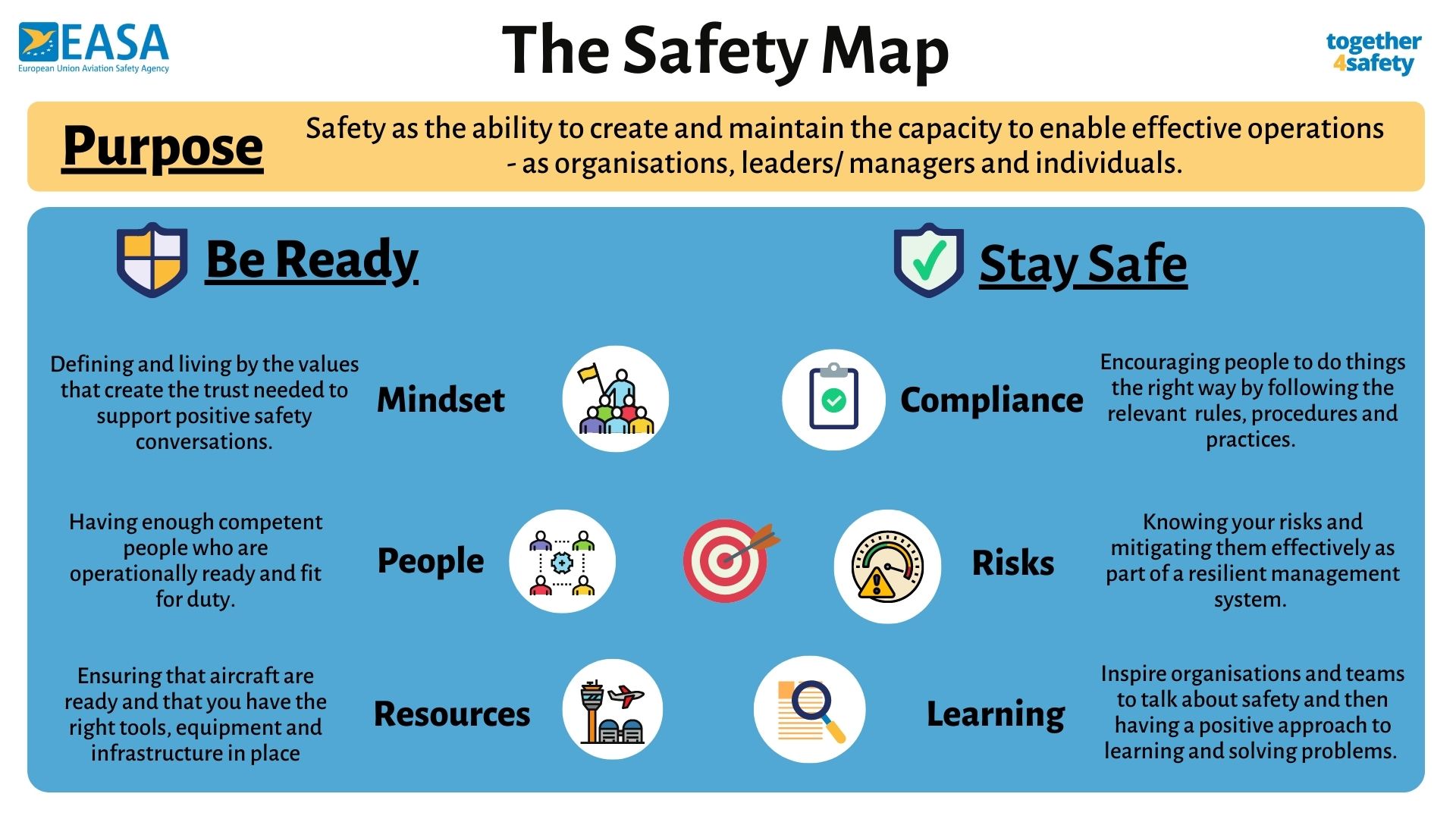 Some important definitions 
Before explaining the elements of the "Safety Map", it is important to first cover some key definitions, so that we are all on the same page. Our little video tries to explain some of the basic definitions using a simple example of drinking a coffee.
Safety: Let us start with the word safety itself. There are lots of definitions, but for our "Safety Map" we will consider safety as the capacity (or even just the 'things') needed to ensure safe and effective operations where the chance of harm has been reduced to a level as low as reasonably practical.
Hazard: Anything with the potential to cause us harm. 
Risk: The probability of getting harmed combined with severity of consequences. 
Control: Things we can put in place to reduce the level of risk. 
Threat: Things that might weaken the "controls", such as time pressure, distractions etc. 
The importance of understanding your purpose
The first element of our map is the anchor for the others. The "purpose" is your purpose, or rather that of your organisation and its operations. That purpose is not just what the organisation/operation does, but also how and where it does it. Most importantly, your purpose defines what safety means to you and the things your organisation needs to contribute to safe outcomes and, at the end of the day, aircraft that land safely while doing what they need to do.
You might be an airline focused on flying passengers from A to B. You might be a cargo operator, business jet operator or even flying ad-hoc air taxi. You might be a maintenance organisation, airport, ground handling company or even an ANSP. You might even do a combination of some of these activities. 
The main thing is you never forget your purpose and how it connects with the wider aviation system that your purpose contributes to. If the goal is safe and effective operations - your safety efforts must focus on this purpose. If you are an operator, that goal is clear; the further you get from the flying part of aviation, the easier it can be to forget that you contribute to something bigger than yourself.
Your purpose, therefore, drives every other aspect of the map. As you heard before, everything in the map is connected and it must connect to your purpose. 
The Safety Landscape
"The recent challenges in aviation have impacted safety and changed the landscape in which we all operate."
The reality is that the landscape is not great. Due to the impacts of the Covid pandemic, the aviation community is stretched, under tension, meaning that the probability of having an 'unsafe' environment is increased. At the same time, we have new challenges as covid has sped up the process of understanding things that are not going well that we need to tackle.
Our approach to safety must be a continuous activity and a collective endeavour, across all aviation disciplines, to analyse, manage and mitigate risks. To do this, and to improve our mindset on the current safety landscape, we must start looking at the future and become proactive rather than just reactive.
It was noted during the EASA SAFE360 Conference back in September 2022 that experience levels have dropped and there is a need to attract new talent to the industry. If we are to survive, we need to invest in young talent and train them accordingly. At the same time, we should respect and encourage the more experiences personnel to become safety ambassadors by sharing their skills and knowledge.
Join us on a journey across the world
Rather than just promote specific topics in isolation The Safety Map of the World will help you to learn about how all your different safety activities connect to each other. Over time this will build up into a comprehensive resource aimed to simplify the way you think about safety in your organisation.