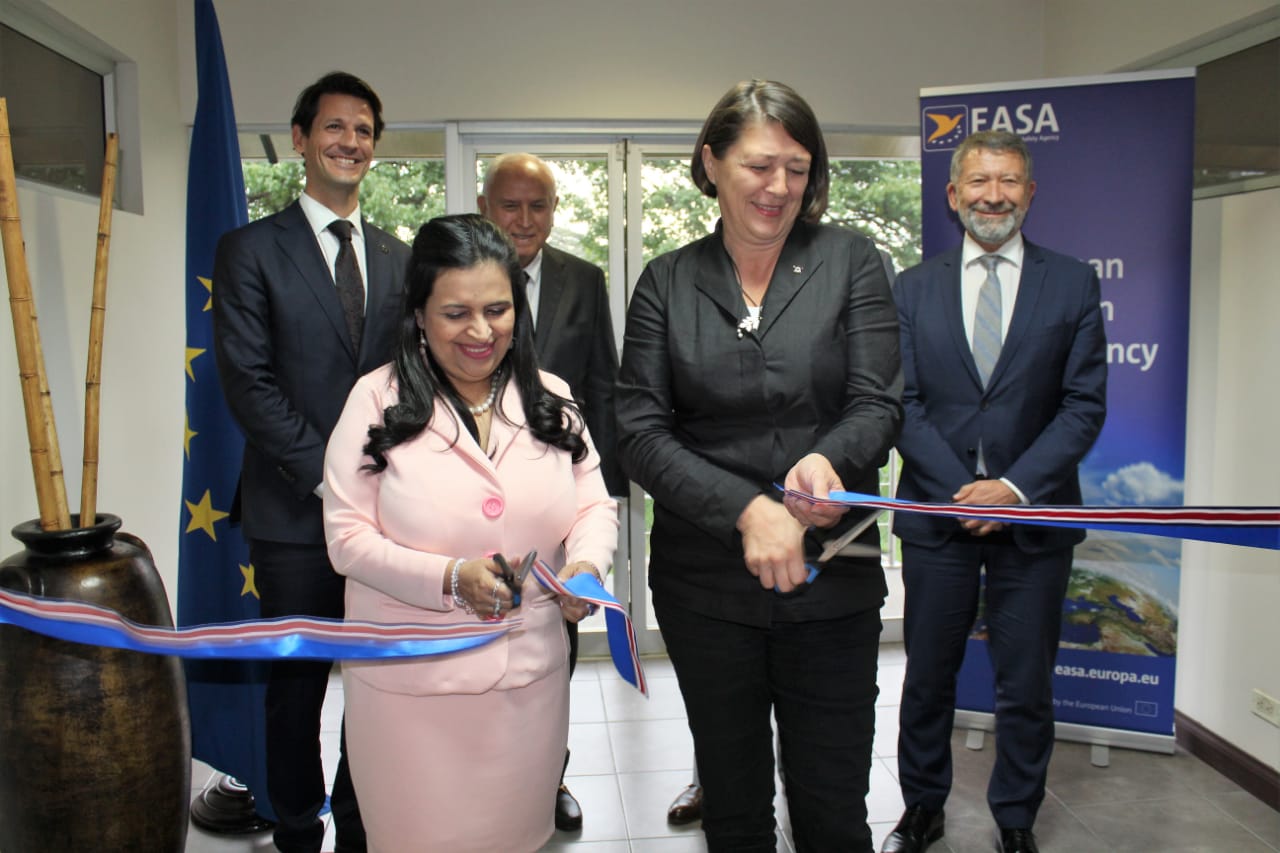 San Jose, Costa Rica, 28 September 2018: The EU-LAC project (EU – Latin America and Caribbean Cooperation on Civil Aviation), officially opened today its field office in the Latin America and Caribbean region, in the presence of EU Commissioner for Transport Ms Violeta Bulc, EU Ambassador to Costa Rica Mr Pelayo Castro Zuzuarregui and EASA Strategy and Safety Management Director Mr Luc Tytgat. The EU-LAC project is financed by the EU and implemented by the European Aviation Safety Agency (EASA). Its office in Costa Rica will strengthen the well-established cooperation between the two regions and support European and Latin American and Caribbean interests in civil aviation.
Ms Bulc said: "With this inauguration ceremony I want to formally reaffirm the long history of cooperation in aviation safety between the EU and Latin America and enhance the solid relationship that joints the Central American and European Aviation Agencies (ACSA/COCESNA (1) and EASA). I have participated to discussions of Central American National Aviation Authorities to reinforce the partnership required to respond to the challenges of rapid air traffic between our two regions".
Ms Bulc, accompanied by the team from EASA and the European Delegation, held a series of meetings with local authorities, a working lunch on urban mobility with the First Lady Ms Claudia Dobles, and participated in the COCESNA Council. She also emphasised the importance of the EASA presence in the region through the field office hosted by the Central American Aviation Safety Agency. EASA and COCESNA/ACSA have a long-standing cooperation, sealed with the signature of a new Memorandum of Understanding.
Luc Tytgat said: "It was an honour to sign today this agreement and always a pleasure to be here at COCESNA/ACSA and witness the success of the cooperation we have developed together. For EASA, today marks a new key milestone in the relationship between our organisations. It will further our joint efforts for the development of a safe, sustainable and more accessible aviation here in Central America".
The importance of setting up a Central American regional aviation regulatory framework is aligned with global best practices, and to be seen as enabler to the development of aviation industry in the region.
About the EU-LAC project:
Through the four-year EU-LAC project, EASA is working with the countries and Regional Safety Oversight Organisations of the Latin America and Caribbean region to enhance aviation safety, and promote the political, economic and environmental partnership between the two regions in the domain of civil aviation.
More information on the EU-LAC project and EASA's technical cooperation activities.
(1) ACSA (Central American Aviation Safety Agency), a division of COCESNA (Corporación Centroamericana de Servicios de Navegación Aérea), is the Regional Safety Oversight Organisation of the six Central American countries (Costa Rica, Nicaragua, Honduras, Guatemala, El Salvador and Belize).