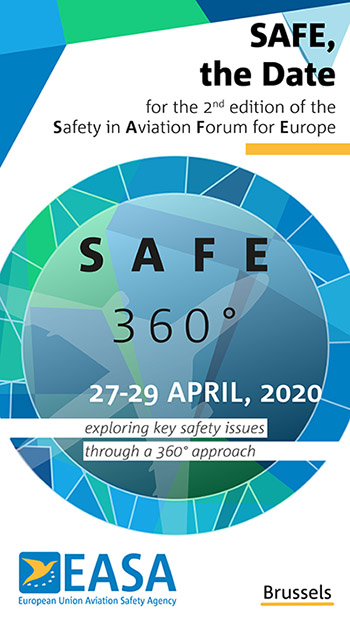 SAFE 360˚, the Safety in Aviation Forum for Europe, is an innovative conference which strives to break down silos by examining key safety issues in Europe through a cross-domain perspective. Following the successful launch of this concept earlier this year, the second edition of SAFE 360˚ will be held from 27 to 29 April 2020 in Brussels.
The first edition of SAFE 360˚ focused on mitigating risks associated with the carriage of lithium batteries, runway incursions and ground handling. The conference was a resounding success due to its unique 360˚ cross-domain approach. The key takeaways can be found here.
SAFE 360˚ (2020) will retain the spirit of analysing safety issues from a 360˚ perspective but will draw more links to existing work at the European level, such as the European Plan for Aviation Safety (EPAS) and Annual Safety Review (ASR), and develop recommendations to influence actions committed at the European level.
More information on the venue and agenda will be updated on the SAFE 360˚ (2020) webpage. For any queries concerning SAFE 360°, please email safe [at] easa.europa.eu.
We look forward to your participation in the conference!