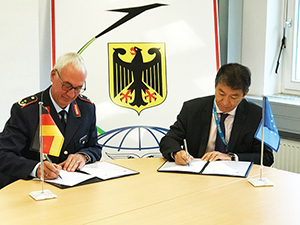 The European Aviation Safety Agency (EASA) further expands its cooperation in the military field with the signature of a cooperation arrangement with the Luftfahrtamt der Bundeswehr (German Military Aviation Authority - GMAA) on 15 September 2017.
 
The domains of cooperation include Airworthiness, Flight Operations, Licensing/Organisation Approvals/Recognition and Aviation Medicine with focus on:
Aviation Safety
Incident reporting systems
Cybersecurity in Aviation
Remotely Piloted Air Systems (RPAS)
Performance Equivalent
Air Traffic Management
 
The Arrangement, which enters into force immediately, was signed by Patrick Ky, EASA Executive Director and Major General Dr. Ansgar Rieks, Director General of the GMAA.
 
This is the third cooperation arrangement signed by EASA in the military field and comes only days after Patrick Ky signed a similar cooperation arrangement with the French Ministry of Defence.
The first cooperation arrangement was signed with the Italian Ministry of Defence earlier this year.
Details of the signed cooperation arrangements can be found on the respective country pages.