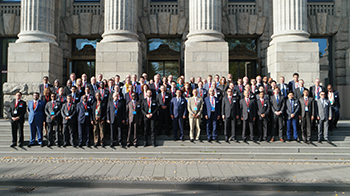 The first day of the sixth EASA International Cooperation Forum took place today to discuss common challenges and cutting-edge topics in aviation safety.
 
80 delegates from 40 authorities outside Europe, including 10 Regional Safety Oversight Organisations (RSOOs), attended from Africa, Asia, the Caribbean, Latin America, the Middle East and Oceania.
Mr Patrick Ky, Executive Director of EASA, said, "The sharing of knowledge, ideas and experience has always been the enabling force behind aviation safety. We are very pleased to see such a wide range of countries and regional organisations represented at such high level."
Mr Simon Li, Director General of CAD (Civil Aviation Department) Hong Kong provided the keynote speech at the event, which takes place at EASA headquarters in Cologne, Germany.
The EASA International Cooperation Forum is an exclusive conference for aviation authorities and regional organisations alike who have adopted or who are interested in EASA rules and the regional approach.
In particular, this year's forum covers subjects such as regional cooperation, enhancing the regulatory approach, technical assistance, organisational challenges, drones and cybersecurity. It builds upon the experience gained since the first such event in 2008 and the excellent record of cooperation between EASA and its partners worldwide.