Update
EASA has implemented a change in the way it is treating applications for the approval of stand-alone revisions of Flight Manual. The applications should now be submitted via the Applicant Portal by selecting the correlating category of design change. Likewise the ensuing EASA approval will not be denominated AFM approval, but will be issued as a Minor or Major Change approval. In cases of changes to an FM Supplement in relation to an EASA approved STC, we may also issue a revised or new STC.
Please also see the related application method selection matrix to help you decide on the best way to apply.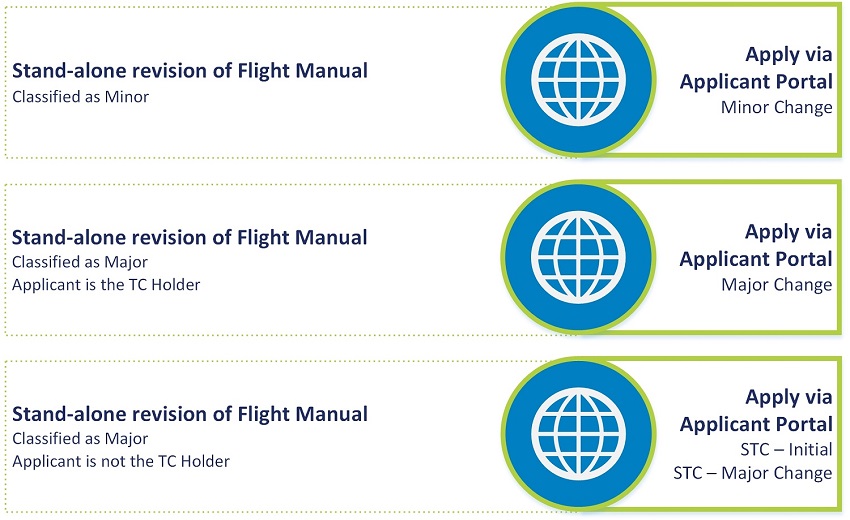 Please also see the related application method selection matrix to help you decide on the best way to apply.
How to apply
The preferred way to receive applications for stand-alone FM revisions is via the EASA Portal.
You will find information on how to register to become a user of the EASA Portal here.
Please support the paperless management of applications by submitting applications to us electronically only.
Additional documents
If this is your first application to EASA and you do not have an EASA applicant account, you will need to submit a copy of articles of incorporation of the entity or business registration stating the company name, business registration number and legal seat of the company.
In case the applicant is not a company but a natural person, a copy of the person's ID or passport needs to be provided.
For applications from the U.S., Canada and Brazil, EASA will wait for the authority forwarding letter prior to registering the application. A copy of the FAA or TCCA STC to be validated is required together with the application form.
Documents can be uploaded using the EASA file box.
Specific technical documents shall be provided directly to the person responsible for investigating your application. The individual contact details will be communicated to you upon EASA application acceptance.
Good to know
Fees and Charges: In accordance with Commission Implementing Regulation (EU) 2019/2153, the Agency levies fees and charges for all its certification and approvals activities. Applications for stand-alone FM revisions classified as minor will be charged in accordance with Table 4 and If classified as major in accordance with Table 3 (Table 2 for non-TC holders). 
Applicant Services
Should you have any further question or suggestion, please contact the Certificate Delivery Team:  Applicant.Services [at] easa.europa.eu  
For questions that are specifically related to the Fees & Charges and your invoice, please contact query.feesandcharges [at] easa.europa.eu.