European Human Factors Advisory Group (EHFAG)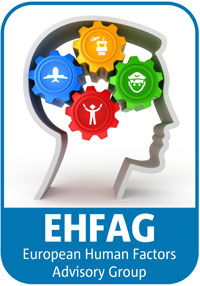 The Agency is provided guidance in the multidisciplinary field of Human Factors by means of the European Human Factors Advisory Group (EHFAG). This group acts as a source of human factors and safety management system expertise that regularly meet to discuss Human Factors issues to provide advice to EASA and the National Aviation Authorities (NAA's). This expertise is drawn from National Aviation Authorities (including the FAA), industry, professional associations and Human Factors academia and science community.
The Agency wants to ensure that human factors are addressed across the aviation system in a consistent and proportionate manner. It recognizes that current and future operations rely on humans for safety, efficiency and effectiveness (Pilots, ATC, Trainers, Managers, Maintainers, Loaders, Dispatchers, Designers, Regulators etc). Human factors and performance affects all aspects of the Aviation System (Individual and Organisational) and should not be addressed in isolation.
The EHFAG assembles thrice annually and meets initially in a plenary session and then in sub-groups comprised of Operations and Licensing, Certification & Design, Maintenance & Continued Airworthiness. EHFAG adapts its working groups and tasks according to the evolving needs of the Agency.
Contacts: If you have any questions on the EHFAG, please send an e-mail to ehfag .at. easa .point. europa .point. eu.
---
Current Activities
This group is tasked with developing a human factors strategy and action plan on behalf of EASA as part of the European Aviation Safety Plan's Safety Actions.
---
Members
| | |
| --- | --- |
| Member name | Business affiliation |
| Abbott Kathy | FAA |
| Beale Cecile | Airbus |
| Bienefeld-Seall Nadine | ETHZ  |
| Demosthenous Vangelis | Kratis |
| Denis Charles | EASA |
| Edwards Carey | LMQ  |
| Etheridge Fred | Gulfstream |
| Fabre Francois | EASA |
| Gaynor Des | TCD |
| Goei Hok | IVW  |
| Gurney Dan | Consultant |
| Hilscher Matthew | EASA |
| Hoermann Hans | DLR |
| Houlier Sylvian | Thalesgroup |
| Johnson William | FAA |
| Kennedy Richard | Boeing |
| Khatwa Ratan | Honeywell |
| Kleine-Beek Werner | EASA |
| Leullier Jerome | Airbus |
| Loukopoulou Loukia | Errormanagement |
| Masson Michel | EASA |
| | |
| --- | --- |
| Member name | Business affiliation |
| Murtha Maria-P. | ECA |
| Paterson David | Jetaviation |
| Pedersen Charlotte | ETAT |
| Pelegrin Claire | Airbus |
| Polo Lucio | Consultant to ENAC |
| Roberts Simon | CAA |
| Rodenburg Henri | EASA |
| Saull John | Fsnet |
| Seychell Anthony (Tony) | Eurocontrol |
| Shaw Peter | CAA |
| van der Lelij Erik | Transavia |
| VAN GORKUM Frans | EASA |
| Marisol De-Mena-Serrano | Boeing |
| Gunnar Steinhardt | Luxair |
| André Vernay | DGAC |
| Jim Reed | CAA |
| Marc Julie | Dassault-aviation |
| Forenze Reuzeau | Airbus |
| Michael Feary | NASA |
| Chris Drew | Bainessimmons |
---
Meetings
---
Documents